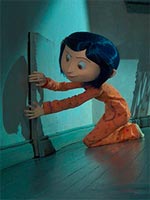 • Kris boldly offered some early winner predictions … I (and you) followed.
• AMPAS unveiled the official list of 20 animated feature contenders, guaranteeing five eventual nominees.
• This week's Off the Carpet column picked through the leading Best Supporting Actor contenders.
• In The Long Shot, we reflected on a handful of the Academy's better moves this past decade.
• Sunday Cents examined the box office fortunes of "A Christmas Carol" and "Precious."
• While new feature Friday Forecast offered box office projections for the weekend to come.
• Meanwhile, "Precious" continues to get some people's backs up.
• This week's edition of Tech Support broke down the Best Sound Mixing race.
• We rounded up the rapidly multiplying selection of studio FYC sites for your convenience.
• Martin Scorsese will receive the Cecil B. DeMille Award at January's Golden Globes ceremony.
• Light or dark? Considering Stanley Tucci's two-pronged attack in the supporting race.
• We examined the curious wave of South African stories hitting our screens this year.
• Our 'Great Performances' series continued, with a review of the years 1999 and 2000.
• And with 'best of the 2000s' lists already in full swing, The Times opted for Michael Haneke's "Caché."
• Once again, our weekly Oscar Talk podcast put everything in perspective.