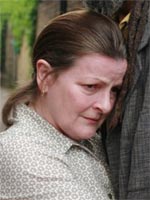 Amid the surfeit of underdog titles vying for Oscar glory, a special prize for maximum cojones should go to the producers of indie Brit drama "London River," who are mounting a campaign for Brenda Blethyn's superb lead performance — despite the obstacle of the film lacking a US distributor.
The film (which was disqualified as Algeria's Oscar entry due to excessive English dialogue) has just begun a week-long qualifying run in L.A., and if you happen to be around, you owe it to yourself to give it a look.
As I wrote in my June review of the film from the Edinburgh fest, it's a quiet, humane piece dealing with the still-sensitive subject of the London terrorist attacks of July 2005. Despite this political currency, the film doesn't draw overt attention to itself — but it affords Blethyn her finest showcase since "Secrets and Lies," tempering the familiar rhythms of distraught-parent drama with less flattering streaks of prejudice and self-absorption.
It's a stark, affecting portrayal from an actress whose career could currently benefit from an awards boost, and more noteworthy than a number of Best Actress contenders with heftier campaigns behind them. Here's hoping enough voters take the time to seek out this gem — but it faces an uphill climb.