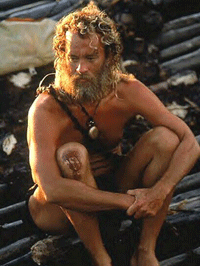 Michael Douglas was robbed.
The already Oscar-christened actor gave a career-best performance in 2000 in Curtis Hanson's "Wonder Boys," but he got no love from the Academy. Worse, his performance was easily among the five best of the year and won the Los Angeles Film Critics Association Best Actor prize.
That having been said, I don't think Douglas actually deserved the Oscar in 2000.  That honor belonged to Tom Hanks in "Cast Away" for a performance that was nothing less than astounding. For two and a half hours Hanks commands the screeen, moving into silent film territory for a stretch, the actor using strictly his body and face for the performance. Anyone who has ever, and I mean ever, doubted his range needs to take a hard look at this film.
The five nominees for Best Actor in 2000 were Hanks, Russell Crowe for "Gladiator," Ed Harris in "Pollock," Geoffrey Rush in "Quills" and Javier Bardem in "Before Night Falls." For me, Douglas was the most glaring omission, followed by George Clooney's Gable-esque work in "O Brother, Where Art Thou?," which I think remains one of the actor's very best pieces of work.
Ethan Hawke was quite wonderful in "Hamlet," which was a bold modern take on the troubled young prince's life, and certainly worth a nomination, while Christian Bale was brilliant in "American Psycho." And Morgan Freeman gave one of his finest performances ever in "Nurse Betty" and certainly deserved some attention.
Crowe got the Oscar because he should have won the thing a year earlier for "The Insider." But Hanks was top of the crop for me.
Julia Roberts won the Academy Award for "Erin Brockovich," a great performance, displaying her unique talents in a way they had never before been seen. But seriously, Best Actress?  Ellen Burstyn gave one of the most extraordinary performances I have ever seen in "Requiem for a Dream," the year's best film.
The legendary actress was astounding as Sarah, a lonely woman battling wicked addictions throughout. Watching her downward spiral is profoundly disturbing throughout this dark and remarkable work, and I am mystified that Burstyn lost not only the Oscar but failed to win any of the year's major critics' awards!
It sas easy to see why Laura Linney was nominated for her wonderful work in "You Can Count on Me," just as it was understandable that Joan Allen got a nod for "The Contender." But Juliette Binoche (whom I adore) for "Chocolat?" Seriously?  Over Bjork for her bold work in "Dancing in the Dark?" Over Kate Winslet for her small, though impressive role in "Quills?" Over the heartbreaking Renee Zellweger in "Nurse Betty?"
Coming around to the supporting categories, there is no question Benicio Del Toro deserved his Oscar for a marvelous, intense performance in a brilliant film, Steven Soderbergh's "Traffic." In fairness, his co-star Michael Douglas could just as easily have been nominated along with him.
I fully agreed with Joaquin Phoenix being cited for "Gladiator" as his vile Emperor was treachery incarnate.  Jeff Bridges in "The Contender" and Willem Dafoe in "Shadow of the Vampire," each richly deserving. However, we could have seen Richard Harris nominated for "Gladiator" as well as Oliver Reed for what would be his final performance.
Philip Seymour Hoffman was drop dead brilliant in "Almost Famous" and Gary Oldman stole "The Contender" every time he was on screen. Tobey Maguire was superb in "Wonder Boys" and John Turturro was very good in "O Brother, Where Art Thou?," again, all deserving of a nomination, making the category for Best Supporting Actor somewhat flush with talent.
Add to that Chris Rock in "Nurse Betty" or his co-star Greg Kinnear.  I loved that the Academy nominated the great Albert Finney for his supporting work in "Erin Brockovich," but they could have also nominated Aaron Eckhart for his work in the same film.
Best Supporting Actress should have gone to Jennifer Connelly for her harrowing turn in "Requiem for a Dream," but sadly she wasn't even nominated. The winner was Marcia Gay Harden for her riveting work in "Pollock," something of a surprise as most had called Kate Hudson as the winner in "Almost Famous" (a wonderful breakthrough performance).
Hudson's co-star Frances McDormand was nominated along with her, with Julie Walters in "Billy Elliot" and the bizarre mention of Dame Judi Dench in "Chocolat" filling out the five nominees. Connelly blew them all away.
Other nominees could have been Holly Hunter in "O Brother, Where Art Thou?," the seething Catherine Zeta-Jones (her best work) in "Traffic" or the wonderful Elaine May in "Small Time Crooks." And is it not astounding that Zhang Ziyi was not nominated for her extraordinary work in "Crouching Tiger, Hidden Dragon?"
That's how 2000 shook down for me.  What about you?  Have your say in the comments section below!