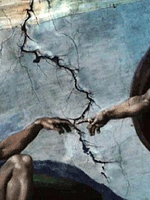 I'm in San Francisco through the weekend and, having missed the week's "2012" press screenings, I headed on over to the Van Ness AMC to settle in for Roland Emmerich's two and a half hours of global destruction, and as overwrought, cheesy, painstakingly contrived ("Where's the map!?") and downright BAD as the film is — and it is all of those things — I ate it up.
Mainly, I salute Emmerich's gargantuan, platinum cojones for giving us the exact…same…escape sequence not once, not twice, but THREE times.  And make it four if we want to go ahead and trace the roots of the by now standardized moment back to "Independence Day." I kept waiting on someone to open a laptop with a countdown clock.  Oh wait, they've got one on the ark — we're good.
Staggering.  Every unconscionable drop of it.  And you know what?  Good.  I want this movie in the marketplace right now.  Sure, it's a bastardized piece of "drama," but squeezing damn near every 2012 theory into the mix, cranking the production up to 11 from frame one and STILL Tom McCarthy is able to keep a straight face?  This is high art on some level.  Has to be.
I said in this morning's podcast that Emmerich has a touch of nostalgia to him for me, and it's absolutely true.  It felt like 1997 in that theater today.  Adam Lambert's closing track drove that home even further.  But the sheer popcorn buzz of the thing, that rare, disgusting, valiant combination of idiocy and daring that is a film from the cinema's apocalyptic auteur…it's a hell of a respite.  I mean that.
You're welcome here any time, Roland.