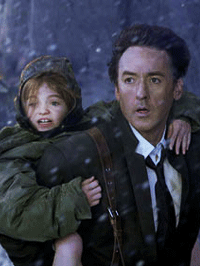 *All historical figures cited are adjusted to today's dollars.
(This is the first of a new series of columns splitting the weekly Sunday Cents column in half. We'll cover the weekend box office on Sundays and save the forecasts for Thursdays from here on out.)
Roland Emmerich returns this weekend to popular landmark destruction for the fourth time in his career. He has experienced gargantuan openings in each previous attempts, so there's little reason to think that "2012" won't win the box office weekend by a mile.
Sony has spent a fortune on the making and advertising of this film, although the studio seems to have saved some money by not hiring an editor as the finished product clocks in at a totally gratuitous 158 minutes. Squeezing in less showtimes may factor microscopically in the grosses, but theaters will be playing this sucker around the clock beginning tonight at midnight.
"Independence Day" opened with $81.6 million during the fourth of July weekend in 1996 for a venue average of $28,311. "Godzilla" earned $67.4 million during Memorial Day of 1998 for an average of $20,373. "The Day After Tomorrow" also bowed on Memorial Day, in 2004. with $79.5 million and an average of $23,206. Clearly, audiences have a taste for the Emmerich touch when it comes to disaster flicks. His various attempts to make films outside this micro-genre have been met with relative shrugs at the box office ("The Patriot" and "10,000 B.C.").
"2012" is opening on a comparable number of screens but the lack of a major summer holiday close to release makes me think it will fail to match those heights. A $56.1 million start would be the 10th-biggest November debut of all time, and that's what I'm guessing here.
Focus is releasing "Pirate Radio" in a soft 882 theaters, which is similar to the studio's approach to releasing "Love Actually" and "Bridget Jones: The Edge of Reason." The latter film had similarly negative buzz from its UK release but still managed to gross a respectable $46.5 million stateside. The fact that it was a sequel to a popular film helped it along and I don't see "Pirate Radio" having such luck. A debut around $3.9 million and then modest fall-offs from there seems more likely.
"Precious" expands to 174 theaters following its record-breaking launch last week. This should almost certainly guarantee a place in the top 10 as it could gross as much as $7 million. I'm not quite that bold and I'll say $4.4 million, which is still an exceptional figure for that amount of screens.
Fox opens "Fantastic Mr. Fox" on four screens in New York and Los Angeles and should see around $300,000 for its troubles. "The Messenger" also hits four screens but will make significantly less. Iraq War films are still box office poison and Oscilloscope doesn't have much experience releasing star-driven narratives yet ("Wendy and Lucy" is the only previous title with a "name"). If the film can do $40,000, it would be considered a good start.
What do you guys think? What are you seeing this weekend? Have your say below!