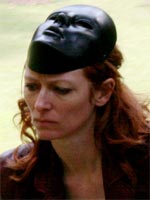 For those of you bored of reading the same ever-narrowing list of names in the assorted Oscar-speculation pieces across the web, David Poland's latest column is a slight breath of fresh air.
Decrying the fact that many pundits are making ludicrous long-shot calls like "This Is It" for Best Picture, while ignoring more deserving contenders who could use the attention, Poland provides a list of less-hyped contenders in the top categories that he feels merit consideration.
His definition of the term "underdog" ranges from genuinely fanciful contenders (Catherine O'Hara and James Gandolfini for "Where the Wild Things Are," "In the Loop" for Best Picture) to names still very much in the race who  have lately lost a bit of steam (Matt Damon, Jeremy Renner and Viggo Mortensen, all in the Best Actor category).
Some of his picks aren't really underdogs at all: Christopher Plummer looks well-positioned for a Best Supporting Actor nod for "The Last Station," though Poland oddly has him in the Best Actor category. (He also has Tobey Maguire in supporting for "Brothers," though the stuio has other plans.) Of course, the Academy can upgrade him if they disagree with the campaign, as Kate Winslet found out earlier this year.
Though I haven't seen the film myself, I've been thinking for some time that "The Last Station" would worm its way onto the Best Picture list. Poland thinks similarly, claiming that the film "is practically precision-measured for success with the only audience that matters in this situation… Oscar voters."
I like a number of the names Poland singles out for attention in the male acting categories, including Michael Stuhlbarg and Fred Melamed ("A Serious Man"), Clifton Collins Jr. ("Sunshine Cleaning") and the little-mentioned Brian Geraghty alongside Anthony Mackie in "The Hurt Locker." I'd add John Malkovich ("Disgrace") and Rupert Friend for "The Young Victoria," among others, but it's a thoughtful list.
On the other hand, I find it immensely depressing that Poland finds only two names apiece to mention in the Best Actress and Best Supporting Actress categories. Why must bloggers continue to perpetuate the myth that the female races are starved for worthy contenders?
For Best Actress, he names Shohreh Aghdashloo ("The Stoning of Soraya M") and Rachel Weisz ("The Brothers Bloom") as deserving of greater attention. But how come no mention of Tilda Swinton, whose incendiary performance in "Julia" towers over those of the category's current frontrunners, by any measure? Charlotte Gainsbourg hasn't a chance of a nod for "Antichrist," but she's a more notable no-hoper than Aghdashloo or Weisz. Brenda Blethyn? Michelle Pfeiffer? Charlize Theron? Amy Adams? Could Poland really think of only two ladies?
O'Hara and Julianne Moore ("A Single Man") are his supporting actress picks. Many will take issue with his classification of Moore as an "underdog," but I'm kind of with him there — many are deeming her a frontrunner based on name alone, but it's a brief role and a mannered performance that won't be to all tastes.
But where are Rosamund Pike, Kim Basinger, Jessica Haines and Samantha Morton? Many would call for the inclusion of Melanie Laurent, though I'm less enamored of her work in "Inglourious Basterds" than most. (Still, while we're talking "Basterds," doesn't Michael Fassbender rate a left-field mention for Best Supporting Actor?)
Different strokes, I guess. But the ladies deserve better. Check out Poland's full column here.