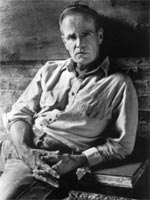 As much as John Hillcoat's filmization of Cormac McCarthy's "The Road" didn't work for me, I think it remains one title that could spring a surprise or two this awards season. Though the film has some high-profile detractors including Todd McCarthy and Roger Ebert, many have been profoundly affected by the film, while its prestigious cache is beyond dispute.
Helping the cause is that Cormac McCarthy, the estimable author of the Pulitzer Prize-winning source novel, is fully behind the film.
Today's online must-read is an extensive Wall Street Journal interview with McCarthy, in which he discusses his own personal investment in the novel — much of which is directly inspired by his own relationship with his son — and the decade-long relationship between Hollywood and his writing.
McCarthy has a healthily hands-off approach to adaptations of his work, bluntly stating that once the rights have been sold, "you don't embroil yourself in somebody else's project." Claiming to have had confidence in Hillcoat from the outset, he goes on to say that the filmmakers "absolutely" caught the spirit of his novel.
Some may see that as a predictably cordial response, but he's clearly not hesitant to criticize adaptations of his work when he deems it necessary — as in his take on what went wrong with Billy Bob Thornton's 2000 adaptation of "All the Pretty Horses" (a film I admit I have some time for):
It could've been better. As it stands today it could be cut and made into a pretty good movie. The director had the notion that he could put the entire book up on the screen. Well, you can't do that. You have to pick out the story that you want to tell and put that on the screen. And so he made this four-hour film and then he found that if he was actually going to get it released, he would have to cut it down to two hours.
On the most successful adaptation of his work to date, the Coen Brothers' "No Country for Old Men," he's tersely approving, calling the duo "very talented" and adding that, like Hillcoat, they needed no input from him. He talks at greater length about his original plan to write "No Country" as a screenplay — something I wasn't aware of — only to receive the thumbs-down from Hollywood:
I showed it to a few people and they didn't seem to be interested. In fact, they said, "That will never work." Years later I got it out and turned it into a novel. Didn't take long. I was at the Academy Awards with the Coens. They had a table full of awards before the evening was over, sitting there like beer cans. One of the first awards that they got was for Best Screenplay, and Ethan came back and he said to me, "Well, I didn't do anything, but I'm keeping it."
Sweet irony. Also on the cinematic side of the conversation, he airily dismisses any suggestion that his novel "Blood Meridian," currently in the hands of "In the Bedroom" writer-director Todd Field, is too dark for the screen:
That's all crap. The fact that's it's a bleak and bloody story has nothing to do with whether or not you can put it on the screen. That's not the issue. The issue is it would be very difficult to do and would require someone with a bountiful imagination and a lot of balls. But the payoff could be extraordinary.
Plenty more to pore over in the interview, a rare admission into the mind of an American treasure. Read it here.