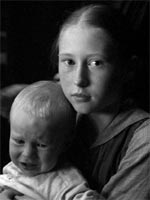 American audiences will have to wait until 30 December to see Michael Haneke's Palme d'Or winner "The White Ribbon," but today marks the film's UK release — and critically, at least, it's off to a flying start.
The film has received unanimously glowing notices in the four major British broadsheets, with the Guardian's Peter Bradshaw and the Telegraph's Sukhdev Sandhu both affording it five-star reviews. This reception should position the film well for the BAFTAs, whose foreign-language category has few rules and restrictions than the Academy's, and tend to go for titles with the greatest balance of publicity and acclaim.
Bradshaw gushes:
It has chilling brilliance and icy exactitude, filmed in black and white with the lustre of liquid nitrogen, and its director, Michael Haneke, achieves a new refinement of mastery and audacity. He has created a film whose superb technical finish and closure seems to me in contrast to its status as an "open" text, a work which resists clear interpretation … This is a profoundly disquieting movie, superbly acted and directed. Its sinister riddle glitters more fiercely each time I watch it.
The Independent's Anthony Quinn comes closer to my take on the film; he's a little more reserved in his admiration, but it's deep admiration nonetheless:
Haneke is not holding up a whole generation to opprobrium; he is never so unambiguous. The White Ribbon remains open-ended, and thus a little frustrating. We have no conclusive proof of the evildoers' identities, however strong are suspicions may be. This cool-headed, watchful film simply invites us to observe, to imagine, to make up our own minds. That's another way of saying it treats its audience as grown-ups.
Sandhu claims that the film is Haneke's finest to date, while The Times has handed reviewing duties to celebrity critic Toby Young, whose four-star review arrives at a typically contentious conclusion:
According to Haneke's view of mankind, there was nothing exceptionally evil about the Third Reich; it was just an extreme expression of a universal human trait. No need to feel guilty, then — or, at least, no more guilty than any member of the human race. The message of this disturbing, nihilistic film is that we're all Nazis at heart.
The film is, as I wrote in my own review, an immaculate and often startling piece of work, and while I think Haneke has made richer, more satisfying films in his career, I'm already looking forward to revisiting this one. Still, it's interpretations like Young's that summarize why I'm still having trouble imagining the Academy's foreign-language branch going for this in a big way.
On the other hand, while I've had the film as something of a placeholder in my Best Original Screenplay predictions for a couple of months now, that possibility is making more and more sense to me. It's proving to be another of those years when the season's heavyweights fall more on the adapted side of the spectrum, allowing for more left-field contenders in the original category.
As they've shown in the past with nominations for the likes of "Mon Oncle d'Amerique" and "The Barbarian Invasions," the writers' branch can be quite accommodating towards more esoteric and/or eggheady foreign-language screenplays. Meanwhile, the presence on Haneke's film of the venerable, thrice-nominated screenwriter Jean-Claude Carrière ("The Discreet Charm of the Bourgeoisie," "That Obscure Object of Desire," "The Unbearable Lightness of Being") only helps matters.
Meanwhile, the film's US trailer is below. It's essentially the same as the international version we saw a few weeks ago, with some added bells and whistles (and some strangely re-translated subtitles):