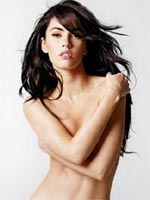 As someone who is neither a fan nor a detractor of Megan Fox, Lynn Hirschberg's mammoth profile of the actress in yesterday's New York Times made for fascinating, and rather upsetting, reading.
Less a straightforward interview than a scientific deconstruction of her star persona, the picture it paints is of a savvy career woman who has invested so much time and effort in building her public image that her own personality has been obscured — even to herself.
I have no real opinion of Fox as an actress, as we haven't been given enough to judge her on: she is precisely as good (or bad, according to taste) as her roles demand in "Transformers" or "Jennifer's Body." Physically, she's obviously attractive, but not sparky or distinctive enough to interest me personally.
Clearly, I'm not the only one indifferent to Fox in these respects, as her celebrity currently hinges less on what she does on screen (or even in photo shoots) than what she says in public. Not many female sex symbols are more famous for their words than their looks, so you have to credit her chutzpah even if you're among the haters. (I'm certainly not — for one thing, who cares enough about Michael Bay to leap to his defense, rightly or wrongly?)
What I find less creditable, and indicative of a malady in the current Hollywood star system, is the cynicism with which Fox explains herself. She stresses to Hirschberg that the Megan Fox of the outrageous soundbites and kinky exhibitionism is not her, but a character she has devised to protect her privacy. That's a perfectly intelligent, and not particularly new, fame-managing strategy, but then she goes on to say:
You have to be put in a box in this industry so they can sell you … They need to get hits on their blogs or sell their magazines. So everyone is something. And if I'm not a party girl, which I'm not, I then have to be the outrageous personality.
I can't help grimacing at the defeatist tone of that remark, particularly when she later suggests she's less than happy with the outcome of this approach:
I have to pull back a little bit now … I do live in a glass box. And I am on display for men to pay to look at me. And that bothers me. I don't want to live that character.
Such statements will inevitably give the anti-Fox brigade more ammunition for their case that she's self-absorbed and/or hypocritical, but I can't help feeling for her a little. Not because of the "glass box" metaphor or any such poor-little-rich-girl concerns — she created her situation, and I suspect she enjoys it more than that last quote suggests — but because such soundbites ultimately betray so little self-belief.
Fox states bluntly in the interview that she doesn't particularly rate her ability — "I don't know if I'm talented, I don't know what I can do or can't do." — and there's something to be said for knowing one's limitations. (Someone like George Clooney has built a superb career on just such an awareness.) But I do wonder if, by concentrating so emphatically, and schematically, on her celebrity, she's risks selling herself short as an actress.
As I'm sure we all have, Hirschberg draws an extended comparison between Fox and the young Angelina Jolie, lurid tattoos and all. It's a parallel that Fox herself obviously feeds to some extent, but the crucial difference is that Jolie never seemed less than convinced of her own talent.
To watch Jolie in her late-1990s breakout phase is to watch a ruthlessly ambitious actress clawing her way ahead of her co-stars for attention in every scene: it's that compellingly brazen self-belief that netted her an Oscar, at the age of 24, for a thinly written part in a terrible film. I remain unconvinced that Jolie is a great actress, but even when she's bad or misdirected, she's a committed one.
Fox is currently 23, nearly the same age Jolie was when her career went stratospheric, though the respectable crossover roles don't seem to be hers just yet. They might still come. I see no reason why, in ten years time, she couldn't be as successful and widely admired as Jolie is now — but if that's to be the case, then she needs to show a little more conviction, and perhaps a little more of her true self too. If she really has kept it under wraps this long, she might be some actress after all.