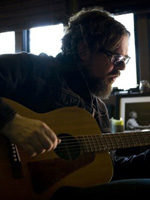 A number of weeks ago I wrote about the original song "Depression Era" from Scott Teems's "That Evening Sun." It's a breathy southern soul tune that, for my money, bests all other original song contenders this year.  But considering the fact that the film will struggle to be seen, and the music branch isn't likely to appreciate the song's placement in the film (closing credits), I doubt an original song nomination is on the horizon.
Regardless, it's a wonderful piece of work from Drive-By Truckers front man Patterson Hood.  It really captures the atmosphere and sense of catharsis (that word won't go away this season) that the film establishes (rather modestly, I might add — refreshingly so).
The Truckers are an Athens, Georgia-based southern rock band, though Hood hails from northern Alabama.  Teems has said the singer/songwriter's involvement in "That Evening Sun" was a "stamp of approval" to the film's cultural authenticity.
Have a listen to "Depression Era" below and tell us what you think.
[display_podcast]