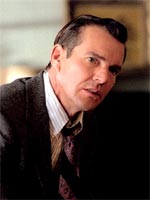 The end-of-decade reflective mood is obviously catching. In yesterday's Long Shot column, I looked back on the last ten years of the Academy Awards, singling out some of their most inspired choices and positive developments. You responded in great numbers, rare goodwill towards the Academy dominating the comments thread for a change.
Of course, however, we all know that it's more fun to bury the Oscars than to praise them. So today, indieWIRE's Peter Knegt has compiled something of a flipside to my piece, listing the 50 most egregious snubs in the past decade of Oscar nominations.
It's an eclectic list, Knegt's only requirement for inclusion being that a nomination for the film or individual in question had to be at least within the realm of possibility.
Obviously, it's a subjective exercise: most would call the failure of "Dreamgirls" to make the Best Picture cut one of the decade's most surprising snubs, but Knegt presumably feels justice was done there. (I agree — Salma Hayek's split-second alphabetical leap from "The Departed" to "Letters from Iwo Jima" when reading the nominees might be one of my happiest Oscar moments of the decade.)
Knegt's list has me reliving many nomination-morning omissions from the last ten years that had me shaking me head, or simply placing it in my hands, from Dennis Quaid for "Far From Heaven" (not to mention that film's snub in the design categories) to one he doesn't list, Baz Luhrmann for "Moulin Rouge!" (Love it or hate it, that film is nothing if not a director's piece.)
Still, I'm not sure any snub this decade reduced me to childish sulking as much as Sally Hawkins's Best Actress shut-out for "Happy-Go-Lucky" only last January. I was aware how vulnerable she was, given her failure to impress SAG or even BAFTA, but something in me couldn't believe that such joyful, inspired work, with such a prestigious trail of precursor awards, could lose out to such partially soggy competition. Alas, it could — and my TV still bears the scar from the remote control I hurled at it in my outrage.
Ah, good times. Check out Knegt's full list here; his Top 10 is below.
1. "Finding Nemo," "The Incredibles," "Ratatouille" and "WALL-E" (Best Picture)
2. Todd Haynes, "Far From Heaven" and "I'm Not There" (Best Director)
3. Uma Thurman, "Kill Bill, Vols. 1 & 2" (Best Actress)
4. "Eternal Sunshine of the Spotless Mind" (Best Picture)
5. "In the Mood for Love" (Best Foreign Language Film)
6. Paul Giamatti, "American Splendor" and "Sideways" (Best Actor)
7. Björk, "Dancer in the Dark" (Best Actress)
8. Sally Hawkins and Eddie Marsan, "Happy-Go-Lucky" (Best Actress and Best Supporting Actor)
9. "4 Months, 3 Weeks and 2 Days" (Best Foreign Language Film)
10. David Cronenberg, Viggo Mortensen and Maria Bello, "A History of Violence" (Best Director, Best Actor and Best Supporting Actress)