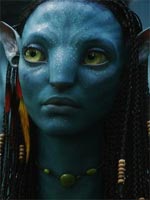 Holy crap, how many lifetime achievement awards are there in Hollywood? More than there are people, apparently, since they're now having to share recipients.
Anyway, mere hours after the announcement that James Cameron is to receive the Lucky Brand™ Modern Master Award at the Santa Barbara fest (it's the ™ that makes it special, in my opinion) comes the news that Cameron will also receive the Lifetime Achievement Award from the Visual Effects Society at their annual awards shindig on February 28. Previous recipients include George Lucas and Steven Spielberg.
Fair enough, given all Cameron has done to advance the effects artform over the last quarter-century. But if "Avatar" storms the awards anyway, might it not seem like overkill? (I'm standing by "District 9" for the Oscar, mind.) More here.