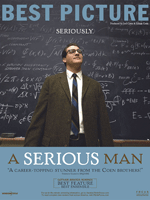 It's that time of year, when studios roll out their awards-centric websites for films in play.  You get screening info, news and notes, reminders of how AMAZING their films are (with critical quotes to back it up), goodies like screenplays and such, etc.  It's a good way to see how wide the net is cast during the season (since any and everything gets a "For Your Consideration" blurb), but I've always found it's a good way to revisit the year's films.
First up, Universal Pictures has put together its standard assemblage hawking "Public Enemies," "Bruno," "Funny People" and "It's Complicated." Skimming through the "Public Enemies" section I was instantly reminded that Elliot Goldenthal's score was actually quite wonderful and could be a sleeper to watch in a field that is notorious for its insularity.  You can even skim through tracks in a dedicated section and download the screenplay.
"Funny People" has a similar set-up, with score toggling, the script, etc., while "Bruno" has no script to offer.  But you can listen to the raved out score again if you wish.  The "It's Complicated" section has material to come and only mentions "in all categories" as it pertains to FYC business.
Over at the Warner Bros. site you get three movies: "Harry Potter and the Half-Blood Prince," "The Informant!" and "Where the Wild Things Are." Nothing for "Invictus" yet, but it'll come.
The WB layout is similar to Universal's, with things like the critics' quotes, scores and screenplays available to you.  It's a great way to revisit Marvin Hamlisch's delicious work on "The Informant!," for instance.  The original song "Trust Me" is spotlighted in the FYC section as well.
Speaking of songs, it's not just "All is Love" from Karen O and the Kids that's getting a push for "Where the Wild Things Are." There's a whole soundtrack of material to work with, but one other song gets a shout out: "Hideaway."
Lionsgate is pitching four films, two of which — the doc features "More Than a Game" and "Facing Ali" — have nothing to speak of here.  But "Brothers" and of course "Precious" are getting full attention, with the latter offering up the screenplay and the opportunity to listen to Mary J. Blige's "I Can See in Color" and the former getting a standard FYC roll call.
"Brothers" has U2's "Winter" listed under the Best Original Song section, but I don't think that will fly.  The song was an unused track from the band's "No Line on the Horizon" sessions and it appeared in the Anton Corbijn short film "Linear," which accompanied the album.  You're probably looking at too much preexistence convolution to qualify there.
Finally, Focus Features has a Flash-heavy site that is nevertheless quite attractive.  You can download the scripts for all of the studio's films — "A Serious Man," "Coraline," "9" and "Sin Nombre" — as well as read through the lists of considerations.  Browsing through the section for "A Serious Man," I was, much like with Goldenthal, reminded of how powerful the score is (from Carter Burwell).  One can only hope something as stark yet skillfully honed as that would be remembered by the Academy.
Ditto Bruno Coulais's work in "Coraline," for that matter.  There is also the original track "Other Father Song" listed for Henry Selick's film, from the band They Might Be Giants.  But you're talking about a 30 second track that is as arbitrary as the Jarvis Cocker ditty from "Fantastic Mr. Fox," so…probably not.  The "9" section, meanwhile, features Deborah Lurie's awesome work as a composer, but the poor girl doesn't have an FYC designation to show for herself.
Paramount Vantage, in years past, launched the without-peer VantageGuilds.com around this time.  With the company folding into parent Paramount, we're looking at ParamountGuilds.com, which should launch some time this month.
Similarly, The Weinstein Company's WeinsteinCoHighlights.com hasn't been unleashed yet, while Sony Pictures Classics doesn't have a proper awards site up and running, but does have a vast network of official sites for its countless contenders available at SonyClassics.com.  (UPDATE: Readers Jamieson and BPH point us to the Weinsteins' TWCAwards.com, a new URL, which is pretty bare-bones for the studio's four contenders at the moment.)
Disney has a page up, but it's pretty bare-bones (with only the only FYC list at the moment going to "Up").  Fox Searchlight has a similarly barren site at the moment, pitching "(500) Days of Summer," "Adam," "Amelia" and "Fantastic Mr. Fox." I imagine "Crazy Heart" will be in there soon enough.
We'll keep an eye on all these FYC shenanigans throughout the first part of the season.  If something juicy shows up, we'll let you know.