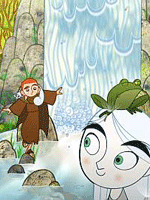 One of the titles we mentioned a couple of weeks ago that could slide in and help rescue the animated feature category (as in, push the field of qualifying contenders closer to 16, which would yield the potential for five, rather than three nominees) was something called "The Secret of Kells."
Since then, "The Missing Lynx: Paws on the Run" has come to the category's aid, as has the stop-motion "A Town Called Panic," so we've got 17 contenders before this news, but 19 gives a nice cushion.
Peter Debruge reports at Variety:
GKIDS picked up U.S. rights to "The Secret of Kells" just three days before the Oscar submission deadline and plans to open the 2D toon for a one-week qualifying run on Dec. 4 at the AMC Burbank 8 in Los Angeles, followed by a wider release in March 2010.

The story of a ninth-century boy who rebels against his guardian's orders and helps to illuminate a famous Irish manuscript, pic garnered numerous accolades abroad, including an audience award at the Annecy toon fest and a nomination for the European Film Awards' animated feature prize.
Also worth noting: the film won the audience award at the Edinburgh Film Festival in June.