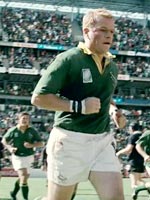 "People say believe half of what you see, son, and none of what you hear." Marvin Gaye's Motown standard may as well have been written about Oscar punditry.
Still, it's hard to resist the allure of hearsay in this game, and even as I douse myself with multiple pinches of salt, I found these two recent tidbits from Steve Pond's The Odds blog interesting. Interesting, I hasten to add, and little more.
The first addresses the matter of how "Precious" might play with the older, white, male audience that comprises the Academy majority:
Among the viewers who saw the film over the weekend, incidentally, were a group of Academy members and guests at the Samuel Goldwyn Theater Sunday evening. I hear that the AMPAS members screening drew a smallish audience (about 300 in the 1,000-seat theater) but played well, with the largest applause going to the film's lead actresses, Gabourey Sidibe and Mo'Nique. (Director Lee Daniels, in contrast, reportedly didn't prompt as much enthusiasm.) The size of the crowd suggests to me that the film's biggest problem will get getting Oscar voters to see it.
The second offers some speculation as to which of the season big four unseen titles might underperform:
Based on what I'm hearing at the moment, I suspect that "The Lovely Bones" will work and "Invictus" will disappoint … though maybe it won't disappoint enough to knock Clint out of the race. Lots of people thought Eastwood's trailer was impressive enough to seal the deal; I thought it was awfully by-the-numbers, and got its emotional kick mostly from the song it uses from the South African a capella band Overtone.
I agree with him about the trailer. Beyond that, well, back to the song.