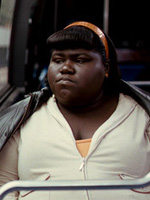 With "Precious" becoming a word-of-mouth box office sensation in just four cities this weekend, Lionsgate is making moves to expand the film considerably over the upcoming Thanksgiving holiday.
According to this Hollywood Reporter story, the studio will move the film into the Washington and San Francisco areas, expanding to a couple hundred screens this weekend, before opening the floodgates for an initial expansion wave of 800-1200 screens on November 20.  The piece quotes Lionsgate's Joe Drake as saying the kind of word-of-mouth success the film is enjoying isn't usually seen until the fifth or sixth week of release.  I'll defer to box office experts on the accuracy of that.
Gabourey Sidibe, meanwhile, followed up Bill Murray on The Late Show with David Letterman last night, bringing the trademark charm and sweetness you'd expect. It was a slightly awkward exchange, though, mainly because Letterman is no Ellen (no dancing, no "Don't let this town change you," etc.).