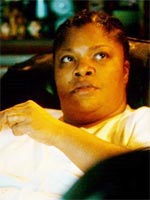 Wow, and I thought I didn't get on with "Precious."
Jeffrey Wells has drawn attention to the concerted efforts of one Anthony Smith, a 29 year-old African-American working in film acquisition, to derail the "Precious" express. Smith has written an open letter decrying the film's alleged use of racial and social stereotypes as both "dangerous" and "offensive," which he is sending to assorted industry figures and op-ed pages.
I quote his letter after the cut not because I particularly agree with or endorse it — as much as I didn't like the film, I think accusing it of racism is a wild stretch. And as a work of fiction, I don't think the film has any particular responsibility towards any particular social group, so I find much of Smith's argument naïve at best.
But as with Armond White's review last week, which was better expressed but imposed similarly unwarranted social expectations upon the film, I think Smith's letter is another fascinating example of the way this film gets under people's skin, for better or worse.
Like "Crash," to which I already compared Lee Daniels's film in last week's Long Shot column, "Precious" moves people to extreme polarities of empathy, anger or revulsion … either way, most people leave the theater feeling something. That's why I think it's the one to beat.
Below is Smith's full letter, as posted in The Envelope forums:
An Open Letter regarding the film Precious: Based on the Novel Push by Sapphire: How Lee Daniels, Oprah Winfrey, Tyler Perry and Hollywood have failed the black community

By: Anthony Smith

The central themes in black communities across the U.S. and in Harlem are not ones of Incest, Rape, Teenage Pregnancy, Physical and Mental Child Abuse, Obesity, Poverty, Welfare, Illiteracy, and AIDS. Yet, in marketing the motion picture, Precious: Based on the Novel Push by Sapphire, the producer and director, Lee Daniels boldly affirms that, "I know this chick. You know her. But we just choose not to know her."[1] Rather by choice or circumstance, let me be the first to say that I do not know Precious, and I have a hunch that most other black Americans do not know her either. This film is as dangerous as it is offensive, and it is not representative of any community, past or present. The narrative about a young, unloved victim is intellectually and socially dishonest. Daniels relies on overly objectionable imagery and perverse cinematic devices to provoke emotion from the audience, all the while offering no true explanation of events, no link between cause and effect, no solution and no opportunity to deliberate, just action – vile, disgusting, and inhumane acts of violence, apathy, abuse and rape. Moreover, Daniels, similar to the cinematic tendencies of Executive Producer Tyler Perry, equates light-skinned black characters as friendly, virtuous saviors, working to counteract the ugly, evil, stupid and animal-like dark-skinned characters. What a shame!

Precious is not a triumph of artistic, scientific or social measures. The Academy, the Hollywood Foreign Press Association, the various Hollywood guilds and critics associations should recognize this picture for the dangerous, dishonest minstrel show that it is and vehemently reject its candidacy for consideration of any outstanding achievement. Any award bestowed upon this film throughout the 82nd Annual Oscar Race is one award too many. The American people should heed this warning before handing over their hard-earned money for this picture, because this is not entertainment and it surely is not worth paying for. The irony in Precious, is that while the film depicts the inexplicable, inexorable, collaborative failure of this girl by others, Daniels is the one ultimately failing her (and the entire black community).

Tyler Perry, irrespective of medium, holds steadfast in his commitment to degrade black Americans. Thus, his overt enthusiasm for this picture following the 2009 Sundance makes sense. However, what can one surmise about Oprah Winfrey's surprising lapse in judgment in agreeing to hock this film as Executive Producer? Winfrey has earned her immense wealth serving as a safeguard, a purveyor of taste with respect to pop culture. Her appeal transcends both race and socioeconomics, and America loves her – black America, white America, straight America, and gay America. If Winfrey commands the public to see a picture, read a book, eat at a restaurant or vote for a Presidential candidate, we do just that! Therefore, I am most offended by her endorsement. And with her substantial resources, is this really the best story that she can offer to the world in 2009? I sure hope not. However, Ms. Winfrey, if this is, indeed, your best, please allow me an opportunity to interview for a position on your team. I have a few ideas aimed at improving your efforts.

It is 2009 and sadly, Hollywood is stuck in the dark ages. An industry that touts the membership of progressive-minded professionals and artists is, in fact, staunchly conservative in its refusal to finance, produce and distribute quality motion pictures by and for people of color. I make a sincere plea to all key decision makers at the major studios to rethink their diversity strategy.[2] Include more talent diversity in your major label features and tentpoles. For pictures predominately about people of color, of different cultural origins, sexual orientations and religious affiliations, consider making honest investments in development, to actually produce a quality picture. These stories, like your audiences, deserve to be treated with integrity. That's all.

[1] "The Audacity of Precious," Lynn Hirschberg, The New York Times, October 25, 2009
[2] Jim Gianopoulos and Tom Rothman at Fox; Rich Ross at Disney; Joseph Drake at Lionsgate; Brad Grey and Adam Goodman at Paramount, Michael Lynton and Amy Pascal at Sony; Adam Fogelson, Donna Langley and Ron Meyer at Universal; Barry Meyer, Alan Horn and Jeff Robinov at Warner Bros.