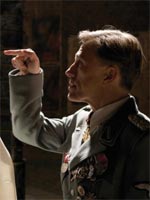 Seeing as Kris was (delete as appropriate) brave/stupid/psychic/smart enough to predict who will win the Oscars four months ahead of the ceremony (and three weeks earlier than he did last year), I figured I'd follow up, as I did last year, with my own foolhardy guesses too.
Last year, Kris kicked my ass at this particular game, correctly guessing 13 out 21 categories, and forecasting "Slumdog" fever while I was still on the "Milk" train. (Ironically, the lone "Slumdog Millionaire" win I predicted — Best Song — was one Kris missed.) For my part, I called wins for Sean Penn and Kate Winslet (for the wrong film, of course) … though that hardly qualifies as visionary, does it?
This year, however, we are of a like mind in most of the top categories, though we part ways considerably further down the list. If you're looking to take any of our predictions to the bank, stick with Kris. But, you know, a different perspective never hurt anyone.
My best (or worst) guesses after the cut, followed by your collective prediction culled from yesterday's comment thread.
Best Picture: "Precious"
Best Director: Lee Daniels, "Precious"
Best Actor: Jeff Bridges, "Crazy Heart"
Best Actress: Gabourey Sidibe, "Precious"
Best Supporting Actor: Christoph Waltz, "Inglourious Basterds"
Best Supporting Actress: Mo'Nique, "Precious"
Best Adapted Screenplay: "Precious"
Best Original Screenplay: "Up"
Best Art Direction: "Inglourious Basterds"
Best Cinematography: "The Hurt Locker"
Best Costume Design: "Bright Star"
Best Film Editing: "The Hurt Locker"
Best Makeup: "Star Trek"
Best Music (Original Score): "Up"
Best Music (Original Song): "The Weary Kind" from "Crazy Heart"
Best Sound Editing: "District 9"
Best Sound Mixing: "Nine"
Best Visual Effects: "District 9"
Best Animated Feature Film: "Up"
Best Foreign Language Film: "Letters to Father Jacob"
Best Documentary Feature: "The Cove"
Meanwhile, you guys differ considerably in some crucial respects. Though "Precious" led when we asked you on the weekend, yesterday you clearly weren't feeling it as much. "Up in the Air" (a film I'm still not sure has enough 'oomph' for the win) leads the Best Picture count, while Gabourey Sidibe trails behind not only Meryl Streep, but Carey Mulligan too. (Only three of you, by the way, are brave enough to predict Streep for "It's Complicated.")
If your (and our) predictions are to be believed, Mo'Nique, "Up" and "The Cove" may as well collect their Oscars now, while "Up in the Air" and "The Hurt Locker" should secure comfy wins in the writing categories. Ditto "Nine" in the cinematography and design races, and "Avatar" for its score. I need convincing.
Closer races do exist though — indeed, you guys couldn't make your minds up for Best Director and Best Film Editing, while Best Foreign Language Film was decided on a single vote. Let's come back to this in March and see who's smiling.
Best Picture: "Up in the Air"
Best Director: Kathryn Bigelow, "The Hurt Locker" and Jason Reitman, "Up in the Air" (tie)
Best Actor: Jeff Bridges, "Crazy Heart"
Best Actress: Meryl Streep, "Julie & Julia"
Best Supporting Actor: Christoph Waltz, "Inglourious Basterds"
Best Supporting Actress: Mo'Nique, "Precious"
Best Adapted Screenplay: "Up in the Air"
Best Original Screenplay: "The Hurt Locker"
Best Art Direction: "Nine"
Best Cinematography: "Nine"
Best Costume Design: "Nine"
Best Film Editing: "Avatar" and "The Hurt Locker" (tie)
Best Makeup: "Star Trek"
Best Music (Original Score): "Avatar"
Best Music (Original Song): "I See In Color" from "Precious"
Best Sound Editing: "Avatar"
Best Sound Mixing: "Avatar"
Best Visual Effects: "Avatar"
Best Animated Feature Film: "Up"
Best Foreign Language Film: "The White Ribbon"
Best Documentary Feature: "The Cove"