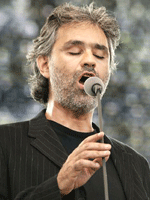 We're featuring the year's Best Original Song contenders when we can here at In Contention, and today, we bring Andrea Bocelli's "God Bless Us Everyone," the closing credits track from Robert Zemeckis's "A Christmas Carol."
As mentioned in the past, being the first cue on the closing credits can be a bit of a liability with the new voting paradigm.  "God Bless Us Everyone" plays quite traditionally at the end of the film rather than in the context of the piece, so songs like those from "Crazy Heart," "Precious" and certainly "Nine" and "The Princess and the Frog" have a leg up here.
But Bocelli's song is quite robust.  It's like a power hymn to the holiday season, packing the considerable punch of the tenor's vocal gifts.  I'm skeptical of its chances, but despite some rather thin lyrics, it nevertheless sends me headlong into the yuletide spirit.  Have a listen below and tell us what you think of the track.
[display_podcast]