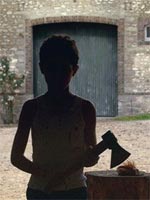 I'm not sure why the British broadsheets are all falling over themselves to publish their 'best of the 2000s' lists in early November, but mere days after The Telegraph critics declared Michael Moore's "Fahrenheit 9/11" the film of the decade, The Times has weighed in with their own Top 100.
In their list, a different Michael comes out on top: Haneke's cryptic and rather brilliant 2005 thriller "Caché" (or "Hidden," if you prefer), which only came in at #44 on the Telegraph list, is their pick of the last 10 years. (Has that threat of a Ron Howard remake gone away yet?) I must say, I'm happier with that choice than the Moore film, which doesn't even feature on The Times list.
That said, the lists' objectives are different: The Telegraph aimed to gather the most significant films of the decade, disregarding aesthetic worth in some cases, while The Times has gone for a blunter 'best films' claim. Both lists are equally contentious and sometimes silly, as such group-think collectives tend to be. ("Team America" in the top 10 is an obvious attention-seeking ploy, but what of the British bias that places "Casino Royale" and "The Queen" similarly high?)
(More, and the Times Top 20, after the cut.)

Still, I'll state a slight personal preference for The Times list, if only because it includes a few more films that I'm considering for my own list — which I'll wait until the end of the year to offer — including one film not mentioned by The Telegraph that has a guaranteed place in my own top five. (No, I'm not telling.)
Of their own film of the decade, the Times critics say this:
It is only as the decade draws to a close that it becomes clear just how presciently the Austrian director Michael Haneke tapped into the uncertain mood of the Noughties. The film's twin themes resonate perfectly with the defining concerns of the time: tacit national guilt about a questionable foreign policy, in the film it's France's occupation of Algeria, but it's not hard to piece together the parallels with more recent conflicts. Plus, as round-the-clock surveillance became a part of our daily lives, here was a film that captured the creeping paranoia that resulted from the eyes of unseen strangers invading private life.
Check out the full list here (and the Telegraph list here). Their Top 20 is listed below:
1. "Caché" (Michael Haneke, 2005)
2. "The Bourne Supremacy" and "The Bourne Ultimatum" (Paul Greengrass, 2004 and 2007)
3. "No Country for Old Men" (Joel and Ethan Coen, 2007)
4. "Grizzly Man" (Werner Herzog, 2005)
5. "Team America: World Police" (Trey Parker, 2004)
6. "Slumdog Millionaire" (Danny Boyle, 2008)
7. "The Last King of Scotland" (Kevin Macdonald, 2006)
8. "Casino Royale" (Martin Campbell, 2006)
9. "The Queen" (Stephen Frears, 2006)
10. "Hunger" (Steve McQueen, 2008)
11. ""Borat: Cultural Learnings of America for Make Benefit Glorious Nation of Kazakhstan" (Larry Charles, 2006)
12. "The Lives of Others" (Florian Henckel von Donnersmarck, 2006)
13. "This Is England" (Shane Meadows, 2007)
14. "4 Months, 3 Weeks and 2 Days" (Cristian Mungiu, 2007)
15. "Downfall" (Oliver Hirschbiegel, 2004)
16. "Eternal Sunshine of the Spotless Mind" (Michel Gondry, 2004)
17. "Brokeback Mountain" (Ang Lee, 2005)
18. "Let the Right One In" (Tomas Alfredson, 2008)
19. "United 93" (Paul Greengrass, 2006)
20. "Donnie Darko" (Richard Kelly, 2001)