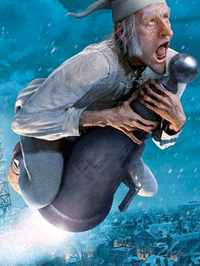 *All historical figures cited are adjusted to today's dollars.
The first weekend in November is considered the official kick-off of the Holiday season at the box office and so it's appropriate that Robert Zemeckis's yuletide digital experiment, "A Christmas Carol," is the film leading the way. The film grossed $31 million for the weekend to easily claim the top spot and set itself up very nicely for a strong, two-month run.
Sure, it's nowhere near the $63.1 million that "Madagascar: Escape 2 Africa" claimed on this weekend last year, but "The Polar Express" started with $27 million in November 2004 before chugging along through the new year and maxing out at $187.7 million, and I expect "A Christmas Carol" to come very close to, if not match, that figure.
Zemeckis has directed 15 features in his phenomenally successful career and only three of them have failed to reach the $100 million mark (his first two and "Beowulf"). An amazing seven of them have grossed the equivalent of over $200 million in today's dollars. To use that success and single-handedly try and pioneer a new medium of filmmaking is admirable, even if it means millions of children will have nightmares involving Tom Hanks, Jim Carrey and their dead, soulless eyes.
"Michael Jackson's This is It" fell a respectable 40% to $14 million and a running total of $57.9 million. Anything under 50% was going to be a huge win for Sony and will undoubtedly cause the studio to back off the "two weeks only" promise and let this one coast to around $75 million domestic and $200 million+ worldwide.
"The Men Who Stare at Goats" managed to rise above the silliness of its title and concept to corral $13.3 million and third place. That's an improvement over the $10.5 million debut of "The Informant!" and serves as another small victory for modestly budgeted Hollywood films aimed at adults. In a time when even a film like "Zodiac" costs close to $100 million, if a filmmaker can keep costs manageable and deliver an original product audiences are willing to take a chance on, we all win. That said, I'm pretty sure this is just "White Chicks" for the latte-sipping-liberal crowd.
Universal's "The Fourth Kind" opened, appropriately, in fourth with $12.5 million. In a post-Halloween market already filled with "Paranormal Activity" and "Saw VI," this is a great result and will be another film to cite for studio execs anxious to call the docu-realism success of "Paranormal Activity" a trend instead of a fluke.
Said fluke closes in on $100 million with another $8.6 million this weekend and $97.4 million total. The momentum has finally passed for Oren Peli and company and good thing, too, because we are quickly running out of superlatives to label their stupenderrific achievement.
Sixth place finds "The Box," which grossed a disappointing $7.9 million for a number of likely reasons. First of all, the market is too crowded with thrillers and high-concept sci-fi angles are no match for found-footage faux-youtube angles. Second of all, it's from Richard Kelly, who doesn't get to be known as a cult director by making popular films. At least not popular at first. And finally, it's got Cameron Diaz in it, and we all know that she's the pits.
"Couples Retreat" grossed another $6.4 million, which is down 0% from last weekend. That's right, 0%. The total now sits at $95.9 million and America has some serious explaining to do.
Then there's Oscar favorite "Precious." On 18 screens in Los Angeles, New York and Atlanta, the Lionsgate drama earned $1.8 million, or a per theater average of $100,000. Only 23 films have ever earned that type of average and never on more than 6 screens. The last film to accomplish the feat was "Dreamgirls," which averaged $138,465 on three screens, all charging $25 a ticket that weekend.
Needless to say, this is a juggernaut figure and will cause some ripples in the industry. Whether it translates to multiplex success in the weeks to come isn't assured (the $11.6 million for "The Crucible" is the lowest total gross for a film that started at these heights), but it's already a blockbuster in the home of 90% of Academy voters.
"That Evening Sun" did Hal Holbrook's slim Oscar chances no favors by opening to a relatively soft $7,900 on one screen. "Venus" this ain't.
Despite five or six titles I feel inclined to catch up on, I only made it to the theater once this week to see "Bronson." For me, Tom Hardy's is the performance of the year so far and I can't understand why he isn't discussed with more seriousness in the Oscar race. The film, however, I thought was little more than a 75 minute trailer.
What do you guys think about the new batch of films this week?  Here are the weekend's top domestic grossers, courtesy of Exhibitor Relations: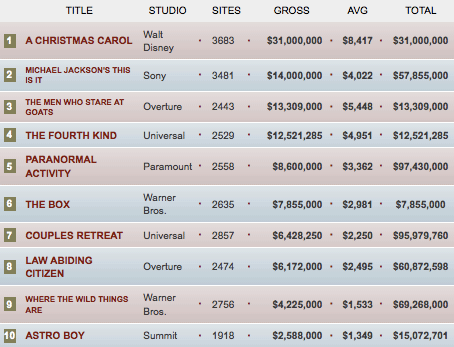 (EDITOR'S NOTE: Starting today, Chad's Sunday Cents columns will no longer include projections for the following weekend. Rather, Chad will be writing a modest column every Thursday previewing the weekend ahead. Look for the first of those this Thursday.)