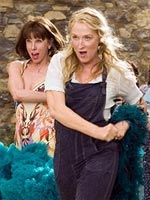 From the moment it was commissioned, this was intended STRICTLY as a "defined the decade" list, regardless of qualitative considerations. Go back and re-read it in that light, recover from the horror of "Saw" and "Mamma Mia!"'s inclusion (Guy's right to single these out, but they aren't the only ones: I personally loathe "Slumdog", for instance) and I hope it then makes a little more sense.

Though I'd much rather have been allowed to submit a list of personal favourites (and will probably follow up with one, on my blog, which will include all of about ten films from the current list), this Telegraph one was put together purely with an emphasis on importance/cultural impact, not critical preference.
Regular reader and Telegraph critic Tim Robey clarifies the intent of that surprising 'Top 100 films of the decade' list that got some of you fired up earlier this week.