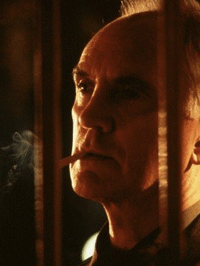 1999 was a strange year.  And it's hard to believe a full decade has slipped past since.  There were some great award-winning performances, to be sure, but there seemed to be just as many not nominated that certainly should have been.
Ten years later, I remain stunned that Reese Witherspoon was not nominated for her brilliant work in "Election" as a pathologically ambitious, grasping social climber student doing anything it takes to head up the student council in Alexander Payne's astute and black comedy.
Witherspoon won the National Society of Film Critics award for Best Actress, besting eventual Oscar, LAFCA and NYFCC champ Hilary Swank in "Boys Don't Cry." What made Witherspoon's work so incredible was that we all must have known a Tracy Flick during our high school days, and the actress created such an accurate depiction.
Swank was a most deserving winner for her superb performance, winning over nominees, Annette Bening in "American Beauty," Janet McTeer in "Tumbleweeds," Julianne Moore in "The End of the Affiar" and Meryl Streep in "Music of the Heart" (perhaps the perennial Oscar favorite's least accomplished nominated performance).
Bening's performance was brilliant, she won the Screen Actors Guild award for it, and though there seemed to be a swell of support for her as Oscar night approached, there was no denying Swank for her career-altering work.
Looking back at the nominees, I wonder what happened to Sigourney Weaver's fearless work in "A Map of the World," in which she portrayed a woman devastated by a tragedy when a child dies in her care. Weaver was spiky and unlikable in the film, giving a most unsentimental performance which might have alienated some voters.
Julia Roberts also offered a fine performance in the romantic comedy "Notting Hill," but voters might have thought she was simply portraying herself.
The Best Actor category bordered on being scandalous that year. No Jim Carrey in "Man in the Moon," no Brad Pitt or Edward Norton in "Fight Club," no Tom Hanks in "The Green Mile," no Matt Damon in "The Talented Mr. Ripley." I thought the great Terence Stamp was simply terrifying in "The Limey" and had great hope he would be nominated, but alas…it was not to be.
Any five of the aforementioned actors could have made up the Best Actor category, and I do not mean that as an attack on those nominated. The actors singled out — Russell Crowe in "The Insider," Kevin Spacey in "American Beauty," Denzel Washington in "The Hurricane," Richard Farnsworth in "The Straight Story" and Sean Penn in "Sweet and Lowdown" — were fine contenders all, and it's tough to decide which should have been left off in favor of any of the others.
Damon is certainly stronger than either Penn or Washington, while Pitt and Norton might have been better than the whole field, with the exception of Crowe, who was fantastic in "The Insider" and might have been a more deserving winner than Spacey. That said, I have never been able to shake the "Fight Club" boys, who hit me on a rare level.  And one performance does not work without the other.
The Best Supporting Actor nominees were short one major performance: Christopher Plummer as Mike Wallace in "The Insider," who actually won the Los Angeles Film Critics Association award for his riveting portrayal. Plummer is crisp and edgy in the film, capturing that brilliant mind of the newsman who misses nothing and is among the greatest interviewers on the globe.
But hey, the best supporting actor of 1999 was Tom Cruise in "Magnolia," as a seething motivational speaker struggling with his past and a connection to his dying father.  Never before had Cruise given so much of himself to a role, never had he dared to go as deep as he did in this film, willing to be disliked, willing to risk everything in the performance for the sake of the art. He was never better, never more vulernable, arrogant or, finally, broken.
The "I see dead people" meme and the hushed terror of a quietly haunting performance made Haley Joel Osment an Oscar nominee for "The Sixth Sense," and there was genuine surprise when he and Cruise were bested by Michael Caine and the weakest of the year's nominees for the legendary actor's performance in "The Cider House Rules."
There might have been room to nominate either Philip Seymour Hoffman or Philip Hall Baker from "Magnolia," and for that matter, John C. Reilly was brilliant in the film as well.  The great Chris Cooper was mesmerizing in "American Beauty," giving the film's best performance as a sexually ashamed military man.  He should have been a nominee along with co-star Wes Bentley.
One could also argue for John Malkovich in the Spike Jonze's "Being John Malkovich," along with Peter Sarsgaard for "Boys Don't Cry," who was terrifying.
Best Supporting Actress was a tough category, eventually won by Angelina Jolie in "Girl, Interrupted," though Julianne Moore might have been a better choice as an emotional wreck of a wife, full of guilt and shame in "Magnolia."
In a near silent performance, Alison Janney was extraordinary in "American Beauty," along with the younger actress Thora Birch, who brought a new dimension to teen angst. Helena Bonham Carter was brilliant in "Fight Club," and Sissy Spacek was quite fine in "The Straight Story," yet all went unnoticed.
To this day I struggle with Jolie's win, along with some of the nominees, who included Toni Collette in "The Sixth Sense," Catherine Keener in "Being John Malkovich," Samantha Morton in "Sweet and Lowdown" and Chloe Sevigny in "Boys Don't Cry." Keener I understand, but if she was nominated, why not Cameron Diaz, who was equally brilliant in the film?
That's my take on the performances of 1999, what's yours?  Have your say in the comments section below!