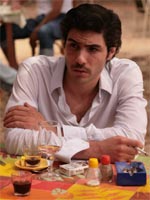 Is "A Prophet" gradually stealing awards-season momentum from "The White Ribbon?" (It's the superior film, if you ask me.) Too soon to say, of course, but it certainly came out on top in this morning's European Film Award nominations.
Jacques Audiard's searing chronicle of French prison gangs leads the field with six nominations, to four for Michael Haneke's German Palme d'Or winner. The two films, seen by many pundits as the chief contenders for the foreign-language Oscar, also appear to be the frontrunners here, continuing a rivalry that started way back in May at Cannes.
Also beating "Ribbon"'s total, with five nods (six, if you include the People's Choice Award), is "Slumdog Millionaire," which didn't make last year's cut-off date. The film's popularity clearly still lingers (to the point that it even eked out a Best Actor nod for Dev Patel, ahead of, say, Michael Fassbender), though I sense its moment has passed.
(More discussion, and a full list of nominees, after the cut.)
Two other holdovers from 2008 in the mix are "Let the Right One In" and "The Reader," the latter looking, for my money, rather dwarfed by its formidable Best Film competitors. The fading memory of the Swedish horror hit, meanwhile, is surely responsible for its otherwise meager showing, with a particularly surprising snub for Best Cinematography.
Meanwhile, I'm delighted to see three key nominations for "Fish Tank," which is really having a marvelous run, while "Antichrist" overcame its divided reception to score a trio of nods too, including a Best Director bid for Lars von Trier.
Meanwhile, the films' respective stars, Katie Jarvis and Charlotte Gainsbourg, are unsurprising (and richly deserving) nominees for Best Actress. They may well be the ones to beat, though Kate Winslet is not to be counted out — Helen Mirren also triumphed here, more than nine months after her Oscar win, for "The Queen."
Penelope Cruz is probably just happy to be there, given that the EFA clearly didn't warm to "Broken Embraces" as they did Almodóvar efforts; although the Spanish auteur managed a Best Director nod, it's his first film since 1995's "The Flower of My Secret" to miss out in the top category.
Notable omissions in the Best Actress lineup include Audrey Tautou for "Coco Before Chanel" (which managed only tech nods and a People's Choice mention) and, more surprisingly, Giovanna Mezzogiorno in "Vincere" (for which her less-hyped co-star Filippo Tilmi managed a Best Actor nod).
By contrast, the Best Actor contest looks less feisty, as breakout "A Prophet" star Tahar Rahim shouldn't have too much trouble seeing off some rather weak competition. (Moritz Bleibtrau? Really?) It is interesting, however, that David Kross — for my money, the strongest lead in "The Reader" — finally gets some notice here after being blanked throughout the previous awards season.
One should, of course, be wary of building Oscar hopes upon the EFA nominees. Last year, "Gomorrah" swept the board, while Kristin Scott Thomas took Best Actress … and we all know now how that turned out. But I love the EFAs for maintaining their own identity in the increasingly samey world of precursors — it's annually a place where some of my favorite films of the year are given center stage for a change, and this year is no exception.
Hell, how many other year-end awards ceremonies can you name where Haneke, Von Trier and Audiard get to do battle? The ceremony takes place on December 12 in Bochum, Germany. Full list of nominees below.
Best Film
"Fish Tank"
"Let the Right One In"
"A Prophet"
"The Reader"
"Slumdog Millionaire"
"The White Ribbon"
Best Director
Lars von Trier, "Antichrist"
Pedro Almodóvar, "Broken Embraces"
Andrea Arnold, "Fish Tank"
Jacques Audiard, "A Prophet"
Danny Boyle, "Slumdog Millionaire"
Michael Haneke, "The White Ribbon"
Best Actor
Moritz Bleibtrau, "The Baader Meinhof Complex"
Steve Evets, "Looking for Eric"
David Kross, "The Reader"
Dev Patel, "Slumdog Millionaire"
Tahar Rahim, "A Prophet"
Filippo Timi, "Vincere"
Best Actress
Penélope Cruz, "Broken Embraces"
Charlotte Gainsbourg, "Antichrist"
Katie Jarvis, "Fish Tank"
Yolande Moreau, "Séraphine"
Noomi Rapace, "The Girl With the Dragon Tattoo"
Kate Winslet, "The Reader"
Best Screenwriter
Gianni di Gregorio, "Mid-August Lunch"
Jacques Audiard and Thomas Bidegain, "A Prophet"
Simon Beaufoy, "Slumdog Millionaire"
Michael Haneke, "The White Ribbon"
Best Cinematographer
Christian Berger, "The White Ribbon"
Anthony Dod Mantle, "Antichrist" and "Slumdog Millionaire"
Maxim Drozdov and Alisher Khamidkhodzaev, "Paper Soldier"
Stéphane Fontaine, "A Prophet"
Prix d'Excellence (Technical Achievement)
Waldemar Pokromski (makeup and hair), "The Baader Meinhof Complex"
Catherine Leterrier (costume designer), "Coco Before Chanel"
Brigitte Taillandier, Francis Wargnier, Jean-Paul Hurier & Marc Doisne (sound design), "A Prophet"
Francesci Calvelli (editor), "Vincere"
Best Composer
Alberto Iglesias, "Broken Embraces"
Alexandre Desplat, "Coco Before Chanel"
Jakob Groth, "The Girl With the Dragon Tattoo"
Johan Söderqvist, "Let the Right One In"
People's Choice Award
"The Baader Meinhof Complex"
"Broken Embraces"
"Coco Before Chanel"
"The Duchess"
"Fly Me to the Moon"
"The Girl With the Dragon Tattoo"
"Let the Right One In"
"Mid-August Lunch"
"Slumdog Millionaire"
"The Transporter 3"
Best European Discovery
"Ajami"
"Autumn"
"Be Good"
"Katalin Varga"
"The Other Bank"
Best Animated Feature Film
"Mia and the Migoo"
"Niko and the Way to the Stars"
"The Secret of Kells"
Best Documentary
"The Beaches of Agnes"
"Below Sea Level"
"Burma VJ"
"Cooking History"
"The Damned of the Sea"
"Defamation"
"The Heart of Jenin"
"Pianomania"
"The Sound of Insects"
"The Woman With the Five Elephants"
Best Short Film
"Between Dreams"
"Die Leiden Des Herrn Karpf: Der Geburtstag"
"14"
"The Glass Trap"
"Good Night"
"The Herd"
"Peter in Radiolande"
"Poste Restante"
"Renovare"
"Sinner"
"Swimming Lesson"
"Tile M for Murder"
"Was Bleibt"