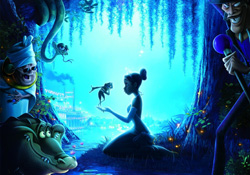 It's a little difficult to argue with the nostalgia that Disney's "The Princess and the Frog" conjures.  As effective as Pixar has been for over a decade and as exciting as the computer-generated leaps have been in animation, there is something to be said about a well-crafted, traditional piece of animated feature filmmaking.
Filmmakers Ron Clements and Jon Musker stretch back to the "Black Cauldron" days of the studio after all, and they were largely responsible for two of the biggest Disney animated hits of the pre-Pixar era, "The Little Mermaid" and "Aladdin." "The Princess and the Frog" isn't in that league, however.  It's an effective story and a clever twist on a classic tale, a twist that works quite well, in fact.
That having been said, the vibrant animation and striking color palette the film's animators are working with make "The Princess and the Frog" a truly beautiful fixture in this year's healthy slate of animated feature films.  Working with the bayou particulars of New Orleans goes a long way toward servicing those visuals, of course, but the sheer energy of the piece, an organic extension of those particulars, is what makes it feel so comfortably familiar.
I would say there are a few story concerns.  Dr. Facilier, for instance (devilishly voiced by the great Keith David), isn't properly capitalized upon as the instantly classic villain he could have been.  There is a thinness to his motivation that makes his influence on the film seem entirely arbitrary at times.  The same could be said for his fellow on-screen antagonist (who's name escapes me).  The chemistry there seemed a pale imitation of the delicious sparring we've received from Jafar and Iago, Scar and the hyena pack, etc.
But the film is a real treat otherwise.  Anika Noni Rose and especially Bruce Campos add a lot of flavor with their vocal depictions of Princess Tiana and Prince Naveeen, respectively.  Michael-Leon Wooley, as a swamp gator in love with music, and Jim Cummings, as a creole fire fly with plenty of spunk, help to fill out a nicely modest ensemble.  And one can't mistake John Goodman's thunderous incantations as the father of a spoiled, silver spoon friend of Tiana's with a heart of gold.
One final note, concerning Randy Newman's contributions to the film's soundtrack.  They are considerable, and a great joy (even if I feel like every Disney animated musical could use at least one-less number breaking up the narrative flow).  But it is somewhat concerning that the studio has its biggest awards plans in store for Ne-Yo's closing credits track "I Never Knew I Needed," rather than any number of the more substantial tunes scattered throughout the film.
In particular, the opening and closing sequence track, "Down in New Orleans" (performed by the great Dr. John) stands out as flavorful and more meaningful, lyrically speaking, than some of the other songs.  "Almost There," performed by Anika Noni Rose, is also a formidable track that plays perfectly within the context of the film.  Ne_yo's song is tossed arbitrarily over the credits and, as a result, isn't likely to be nominated, so I think Disney would be wise to concentrate efforts on those other two Newman tracks.
And really, who doesn't want to see Dr. John performing at the Oscars?