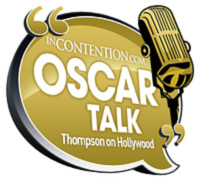 Welcome to the latest installment of Oscar Talk, a weekly kudocast between yours truly and Anne Thompson of indieWIRE's Thompson on Hollywood.
On the docket this afternoon:
• Anne and I discuss the week's biggest Oscar news, the tapping of Alec Baldwin and Steve Martin as this year's Oscar telecast hosts.
• Another substantial news item this week was the revelation that Scott Cooper's "Crazy Heart" would get a last minute 2009 release from Fox Searchlight.  Anne and I talk up the film and actor Jeff Bridges's wonderful, certainly Oscar-worthy performance.
• "A Christmas Carol" releases today, so we use that as an opportunity to revisit the animated feature contenders.
• As mentioned earlier this morning, the latest Gurus o' Gold chart has gone up.  Anne and I talk about a number of the contenders, placements, etc.
Have a listen to this week's podcast below, leading in with one of the original tracks from "Crazy Heart." And as always, you can subscribe to Oscar Talk via iTunes here.
[display_podcast]