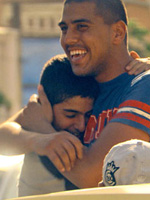 Life came calling earlier this week, so unfortunately I wasn't able to make it to as many AFI Fest screenings and events as I had hoped.  I did catch Terry Gilliam's "The Imaginarium of Doctor Parnassus," however (a bizarre, confusing misstep with a wonderful performance from Heath Ledger) and "Everybody's Fine" (D.O.A.).
I also caught the tribute to Christopher Plummer, who makes it known that he doesn't want to discuss "The Sound of Music" in interviews, but given the tribute setting, poor Scott Foundas had to bring it up, right?  After some mumbling, Plummer finally shouted, with an uncomfortable smile, "Why did you ask me that?!"  I thought said tribute could have run a little longer than 20 minutes, but it was a modest event plugged in just before the festival screening of "The Last Station."
Anyway, the festival has announced this year's New Lights Competition award winners, a designation that "was created to acknowledge and honor vital, groundbreaking films by first and second time feature filmmakers from around the world," according to AFI. Andrea Arnold's "Fish Tank" and Javier Rebello's "Woman Without Piano" shared the honor.
I caught "Fish Tank" early on in the fest, and I have to say, it didn't fully work for me.  Make no mistake, Katie Jarvis's performance is a stunner, award-worthy, beautifully natural.  And Michael Fassbender is making good on his potential, to say the least.  But the narrative feels slightly dishonest to me, particularly in the third act.  I have a lot of respect for Arnold as a filmmaker, though, and I certainly look forward to what she has in store in the future.
New Lights Competition jury members included Angela Bassett, Julie Delpy, Bill Krohn, Sergio Wolf and Yonfan.
A Special Jury Mention went to Scandar Copti and Yaron Shani's "Ajami," the Israeli submission for the foreign language film race.  I have not yet seen the film but I hope to get around to it over the weekend.
There was also a tribute to Viggo Mortensen tucked into the fest somewhere.  Here is an interview with the actor from the red carpet discussing his work in "The Road," courtesy of AFI: