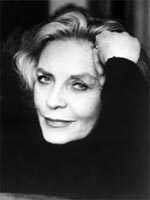 As I've said before, I'm dismayed by the Academy's decision to relegate the honorary Oscar winners to a separate, untelevised ceremony, which will take place next Saturday. Even more than the inflation of the Best Picture nominees, it's a move that betrays desperate self-doubt and compromise on the Academy's part.
Meanwhile, they only rubbed salt in the wounds by making such roundly well-received choices for this year's honorees: few would disagree that the likes of Lauren Bacall and Gordon Willis are  well due for Oscar recognition, so it truly insults the recipients (not to mention film fans in general) to deny them a public moment in the spotlight.
Also still seething over the change is veteran film writer David Thomson, who has written an impassioned and spot-on piece that pays tribute to this year's four Governors Award winners — Bacall, Willis, Roger Corman and John Calley — while railing against the Academy's sidelining of its own history:
If the night of the Oscars still means anything in these barren days, it should have Bacall striding up to the centre-stage spot to a standing and building ovation and then killing the crowd with some drawling wisecrack. The glamour of the American movie depends upon it. And she will be on 14 November.

I don't doubt that the 14 November awards will be filmed. And I'm sure some of that film will be shown on the big night. But not live, not for real. I don't think there's going to be time for the proper appreciation of Hollywood beauty and style.
In conclusion, he suggests that the change diminishes the very purpose of the Oscars themselves:
Do you care? Because if you don't, the Academy might as well roll up the carpet and face the fact that the Oscars are a dying ritual.
I couldn't really have said it better myself. (I have a similar reaction to those who suggest that technical awards should be omitted from the Oscarcast too.) If the Academy starts caving to the demands of audiences who don't care about such matters, then they lose sight of what they're really celebrating: cinema first, celebrity second.
Read the rest of Thomson's piece here.