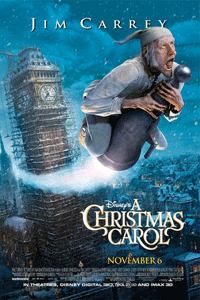 Filmmaker Robert Zemeckis's allegiance to performance-capture technology these last few years has begun to wear thin for some.  But the fascinating thing to note is an artist improving his craft before our very eyes over the course of three separate productions.
"The Polar Express" in 2004 didn't hit the mark for a great many, the "uncanny valley" of its characters' glossy, somewhat lifeless expressions a considerable liability.  But it was the beginnings of a new process Zemeckis was bound and determined to master.
"Beowulf" in 2007 was a big step forward, though the director perhaps got a little carried away with consistent, gimmicky elements meant to emboss the 3D aspect of the film.  But you could see the improvement.
A typical complaint of the technology is that it comes off a bit arbitrary, or that it drowns out the work of actors.  But the value of the process that is too hastily dismissed is that it allows an artist to tell a story in ways rather unfathomable under traditional filmmaking techniques.
With "A Christmas Carol," a performance-capture adaptation of Charles Dickens's classic tale, Zemeckis proves that point explicitly.  And as far as refining his medium of choice goes, I have to say he's close.  VERY close.
The film is faithful to its source to the point of reverence.  Jim Carrey tackled Ebenezer Scrooge beneath a shroud of tiny motion-capture sensors and the wiry animated curmudgeon on the screen is what came out the other end.  The actor also takes on the roles of Scrooge throughout the years, from childhood, through adolescence, young adulthood to the crotchety old man he is now.
The audience is of course whisked away on this tour with the misanthrope by Dickens's three Yuletide spirits — the ghosts of Christmas past, present and yet to come — each of them uniquely rendered and also performed by Carrey, giving the actor a grand total of eight roles to inhabit.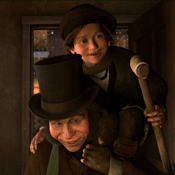 Zemeckis makes great use of his cast in this way, doubling and tripling them up with various tasks throughout.  Acting chameleon Gary Oldman takes on Bob Cratchit, the ghost of Jacob Marley and even Tiny Tim, for instance.
This, of course, is another added benefit of performance-capture, the ability to allow an actor to perform within a different vessel.  Given Carrey's trademark physicality, the technology suits him more than it has prior Zemeckis collaborators.
And the performance is actually quite remarkable.  Carrey mumbles and spits Dickens's dialogue like a grand stage actor might, caught in the emotion and spectacle of each moment, effortlessly carrying the audience with him on his tour of catharsis.
The film itself is wonderfully imaginative, Zemeckis digging deep to offer unique visuals to a familiar story, and yet it takes on a near-definitive quality throughout.  No doubt it will become a staple of the holiday season for younger generations who have yet to receive "their" Scrooge.  But let it be known, Zemeckis isn't afraid of a little edge.
It makes complete sense to promote a film like "A Christmas Carol" as a saccharine-soaked holiday romp, but there is a darkness here, lifted dutifully from the source in some sense, that is unmistakable.  It's a darkness other adaptations have delicately discarded, even if the residue remained in some instances, and it gives Zemeckis's version an instant air of legitimacy that some viewers might not expect.
In particular, the depiction of the story's allegorical twins Ignorance and Want, presented by the ghost of Christmas present, as well as the ensuing action of the sequence, amplify the sense that Zemeckis is wary of diluting a message that is more powerful painted in ominous strokes.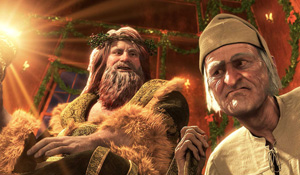 But the joy is the ride, and Zemeckis, ever the head-in-the-clouds showman, takes you on one as only he can do.  From "Romancing the Stone" to "Back to the Future," "Who Framed Roger Rabbit?" to even "Forrest Gump," Zemeckis has always played up a sense of epic adventure in his work.  These works obviously don't carry the prestige of some efforts, but they certainly shouldn't be dismissed as frivolous entertainment either.
And "A Christmas Carol" fits in nicely with that oeuvre.  It's one of 2009's wildest rides, and one of the most enjoyable times to be had in a cinema this year.