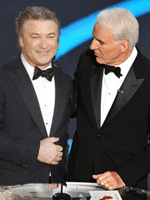 Well, I guess Martin was available after all.  And he's going to have company.
The Academy has announced this year's Oscar emcee, and as expected, it's a pair: Steve Martin and Alec Baldwin, stars of "It's Complicated" and one person removed from the suggestion our own Guy Lodge made last month.  Lodge proposed Tina Fey alongside Martin.  Academy producers Adam Shankman and Bill Mechanic opted instead for Fey's "30 Rock" co-star Alec Baldwin.
The quoted portion of the press release:
"We think the team of Steve and Alec are the perfect pair of hosts for the Oscars," said Shankman and Mechanic. "Steve will bring the experience of having hosted the show in the past and Alec will be a completely fresh personality for this event."

"I am happy to co-host the Oscars with my enemy Alec Baldwin," said Martin.

"I don't play the banjo but I'm thrilled to be hosting the Oscars – it's the opportunity of a lifetime," said Baldwin.
And that's that.  Thoughts?  I find myself completely thrilled.