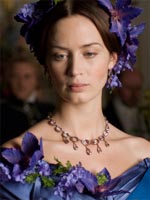 Okay, let me get this out the way: I love Emily Blunt.
On screen and off, she exudes smarts, class and a welcome streak of British eccentricity. Most still remember her principally as the girl who cut through "The Devil Wears Prada" like a hot knife through butter, though it was 2004's "My Summer of Love" which best showcased her dramatic chops and tart sex appeal. Put simply, she's got it.
I did not, however, love Emily Blunt in "The Young Victoria." Usually so alert and thoughtful on camera, the actress is stifled by the bland dramatics and fussy styling of Jean-Marc Vallee's royal biopic; a practised scene-stealer herself, she gets a taste of her own medicine as Rupert Friend walks off with the film, in an underwritten part to boot.
Meanwhile, the film that was supposed to be her star-making vehicle (and awards breakthrough) instead got shrugged off by critics, as her name tumbled down the Oscar pundits' lists.
So why has BAFTA's Los Angeles branch chosen this of all years to hand her the Britannia Award for British Artist of the Year?
The award is one of several handed out by BAFTA/LA at an annual Hollywood ceremony honoring both British and international figures deemed to have made a particularly outstanding contribution to film. British Artist of the Year isn't designated specifically for actresses, though the list of past winners suggests otherwise: since its inception three years ago, Rachel Weisz, Kate Winslet and Tilda Swinton have won the award.
The arguable merits of Blunt's work in "Victoria" (and her superior turn in "Sunshine Cleaning") aside, one has to wonder in what possible context the actress could be deemed this year's standout British talent. Carey Mulligan might be too green for the honor, even if she is the year's most talked about ingenue … but, uh, Colin Firth? Michael Sheen? Kristin Scott Thomas? Even Samantha Morton, who also just made a handsome directorial debut?
Ah well. Congratulations to an exciting talent. A BAFTA nod is looking like a very real possibility.