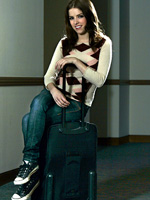 Last week's Off the Carpet column charting this year's Best Supporting Actress contenders would have been remiss to ignore Anna Kendrick, whose spark-plug turn in Jason Reitman's "Up in the Air" is likely on its way to an Oscar nomination, perhaps even opposite co-star Vera Farmiga in the same category.
Gregory Ellwood over at HitFix says it "wouldn't be a careless exaggeration to say that if [Kendrick] weren't nominated it will be one of the biggest upsets in Oscar history," and while I'd say that is indeed a CONSIDERABLY careless exaggeration (this isn't "the performance of the year" or anything), I do think that Kendrick is a player you should be taking seriously if you've been dragging your feet on her up until now.
And the media is beginning to shine a light her way.  She didn't pop up on Variety's list of 10 actors to watch (she could have filled the shoes of, say, Jeremy Renner, who has been around longer than a list like that should allow).  But as Guy pointed out this morning, she was singled out in The New York Times as one of the year's breakthrough performers, and I'd say she fits in nicely with the surrounding company.
The actress was also featured over the weekend in the Los Angeles Times, in a piece by Rebecca Ascher-Walsh more concerned with the quick attention grab of Kendrick's cutting up with George Clooney on the set than it is with providing an insightful look at the young starlet.  Still, I like Ascher-Walsh's lead:
To fully appreciate the skill involved in Anna Kendrick's purse-lipped, perfect-postured turn as Natalie, the comic and dramatic foil to George Clooney in Jason Reitman's "Up in the Air," it helps to watch the 24-year-old in action. In the dramedy about a middle-aged executive (Clooney) who uses his job on the road as a hall pass for life, Kendrick's Natalie is the sassy upstart, armed with sensible pumps, a decidedly unfashionable low ponytail, and a purposeful stride that gives her stature. The elf-like Kendrick, on the other hand, bounds into the room like a puppy in laceless black Converse sneakers, hair askew, and collapses on a couch, folding her jean-clad legs beneath her.
A hall pass for life.  A nice turn of phrase, that.  The story goes on to take the "success hasn't changed her" route (she still lives in the same apartment she did five years ago, still drives the same car, etc.), but more of the transformation hinted at in that first graph would have been nice.
I don't mean to beat up on the article.  I'm fine reading about Kendrick's adorable lack of assured confidence.  And this is probably a good way to warm the town up to the actress before the inevitable coverage timed to the film's release next month.  Regardless, the fact remains, Kendrick is poised to break out this year.  She'll probably nab a few "breakthrough actress" awards throughout the precursor circuit.  And she deserves them a hundred times over.
Kendrick "is wonderful as a naive firecracker vulnerable to the typical stings of youth: love lost, ambitious dreams, professional inexperience," I wrote in my review of "Up in the Air" out of Telluride.  But I only now wish I had written more.  Kendrick also brings a delicate emotion to the film.  The last time we see her on screen makes for one of the simplest but most affecting images of the piece.  And her character represents, I think, one of two intriguing choices put to Ryan Bingham throughout.  It's tough to embody a film's theme in that way, and I think Kendrick pulls it off effortlessly.
We'll be hearing from her again.