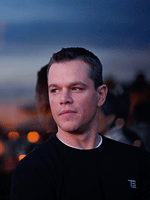 Over the weekend you heard Anne and I discuss Matt Damon's Oscar prospects this year for his two films, Clint Eastwood's "Invictus" (where he'll be looking to land a supporting actor nomination) and Steven Soderbergh's "The Informant!" (lead).  Anne isn't in the minority when she says the latter has faded somewhat from the canvas and that Damon is looking less likely for a notice there, but I remain fairly certain that he'll be remembered for what is, many will agree, his finest work to date.
Of the year's potential double-dippers, Damon has perhaps remained the most likely to see two nominations, and he'll be right back on the scene a week after the Oscarcast when Paul Greengrass's "Green Zone" hits theaters nationwide.  The guy is busy, as always, and what makes him special is he is incredibly consistent.
So it's not that surprising that the Grey Lady would dedicate a lengthy piece to the actor and his place in modern Hollywood, having forged a career as what the editors and/or writer Dennis Lim are cleverly dubbing an "A-list character actor."
The thesis of Lim's piece hits in the fifth and sixth graphs:
Details matter to Mr. Damon, who has put together his quietly impressive résumé with a curatorial eye, working his way to the top of the Hollywood heap while avoiding the traps of a typical A-list career. "The leading-man stuff doesn't come easily to me," he said. "I've always felt like a character actor."

This may sound like false modesty from someone who, at 39, has yet to lose the golden-boy aura of his breakout role in "Good Will Hunting" (1997), a vehicle he wrote for himself with his boyhood friend Ben Affleck. But the increasing variety of Mr. Damon's roles and the almost perversely self-effacing ease with which he sinks into them suggest the thoughtful, restless sensibility of an actor who, as his frequent collaborator Steven Soderbergh put it, "is thinking about expanding himself as opposed to presenting himself as a movie star."
It's a fairly smart way of summing up where Damon fits into the menagerie of celebrity in the film industry.  The piece goes on to offer more perspectives from Soderbergh and Paul Greengrass, some interesting points about Damon's work, in fact, and an insightful peek under the hood of his process.
I can't help but think this piece comes at a weird lull period that won't really do much, publicity-wise, for the actor.  If it had hit during the Venice fest or even held off until the machine started moving on "Invictus," I think it would have been more effective.  This aside regarding "The Informant!," for instance, would have added fuel to the fire a few months ago:
The few times he required direction in "The Informant!," Mr. Soderbergh noted, it was because the obliviousness of his character conflicted so starkly with his basic approach: "Matt has such a well-developed understanding of the context of a film, but he was playing someone who's never aware of context."
But then again, with the performance having dwindled from memory a bit as the crush of the season hits, maybe now is the perfect time.  As always, I still see no reason to strike him from that list of frontrunners.  It's a perfect example of one of the "unknowable ciphers" that Damon has owned throughout his career.  And Lim's shrewd characterization in this mini-profile of a modest, working-man's actor paints the portrait of just the kind of guy who should be rewarded for what he's given us.
By the way, if you missed Damon's hilarious bit at the end of this year's "Entourage" finale, have a look: