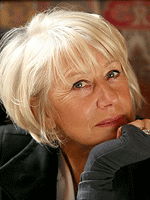 After I saw Michael Hoffman's "The Last Station" at Telluride, it became quickly apparent that, should the film get a domestic release, actress Helen Mirren would find herself in the thick of the Oscar hunt for Best Actress.  She gives, to my mind, the performance of the film.  And now that Sony Classics has picked it up and begun to build a campaign, well…nothing is "truth" until everyone agrees, I guess.
Mirren will be representing the established guard in the face of formidable competition from younger, upstart performers such as Gabourey Sidibe and Carey Mulligan.  It should make the race quite interesting, because as much as the media probably wants to frame it as Meryl vs. Carey all the way, there are lots of variables.  And plenty of potential line-ups (especially with contenders like Marion Cotillard on the way and others like Brenda Blethyn and Sandra Bullock jumping into the race as we speak).
Anyway, in the pages of London's Daily Telegraph newspaper, Mirren has gone on the record with writer John Hiscock about the role of Sofya Tolstoy, Countess wife to world-renowned author Leo Tolstoy.
Says the actress:
This is one of the great women's roles in film. Sofya is a wonderfully tempestuous and passionate person…I read about Sofya and read her diaries to a certain extent but in the end I was making the film that Michael wrote and based on the book by Jay Parini. Those were really my inspirations rather than the real person; I felt I had to interpret their work rather than try to recreate Sofya perfectly. The film is all about love—young love and old love. It shows the practicalities and disasters that love can involve. The characters were so wonderful, it was an absolute gift.
There is also discussion of Michael Tolkin's efforts to bring Parini's novel to the screen, Mirren's return to the London stage in a production of "Phaedra" and plenty more.  Check it all out at the Daily Telegraph.  And in case you missed my recent in-depth look at the lead actress category, be sure to catch up.