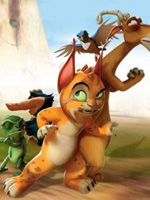 Two weeks ago we told you about the animated feature film category's state of flux and how a little film no one has heard of called "The Missing Lynx: Paws on the Run" could be its saving grace.
With "Evangelion 1.0: You Are (Not) Alone" and "A Town Called Panic" currently off the qualification list, and Disney trying hard to pad the field of eligible titles by submitting Robert Zemeckis's "A Christmas Carol" (when Zemeckis has gone on the record as saying such a thing is a "disservice to the great animators") and even squeezing in the formerly-straight-to-DVD "Tinker Bell and the Lost Treasure," the magic number of 16 has been too close to call.
Well, today at 5:00pm is the official deadline for submissions, and prints of qualifying titles are due by November 13.  It's now or never, and things will start to take shape soon.  But getting back to "The Missing Lynx," Steve Pond is reporting that the film was officially submitted and gets some great quotes form director Raul Garcia about the situation.
Writes Pond:
Garcia says that he didn't receive any pressure or encouragement from the major studios to qualify his film – in fact, he did so on his own, precisely because he thinks the category should have room for more than just studio productions.

"I am the first one interested [in] having a wide selection of films for Oscar consideration because I [think it] is good for the industry and for the filmmakers to have five nominees this year," he said in an email. "The more the better to have more room for independent films or films with different sensibilities than big studio, big budget fare."
Additionally, Pond notes that "A Town Called Panic," which only screened in New York and must screen in Los Angeles to qualify, could end up with a last-minute run on these shores, pumping the list up to 17.  And you can make it 18 if "Alvin and the Chipmunks: The Squeakquel" gets a shove from Fox (which has a vested interest in seeing "Fantastic Mr. Fox" in the mix), Pond says.
Regardless, with "The Missing Lynx" officially in, it looks like a five-nominee slate is going to happen for the first time since 2002.