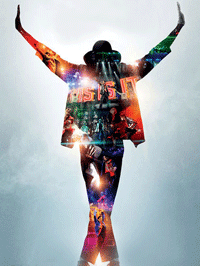 *All historical figures cited are adjusted to today's dollars
Michael Jackson's concert footage was finally released upon the public amid a whirlwind of hype that caused many, including myself, to get a little carried away. The documentary grossed $21.3 million from the three-day weekend, second only to "Fahrenheit 9/11" for docs, and $32.5 million since opening on Wednesday.
Compared to what Sony must have thought it MIGHT get, this is a disappointing result, but compared to what was spent and what type of product this actually is, it's still phenomenal. If it wasn't for the fluke juggernaut that was "Hannah Montana/Miley Cyrus: Best of Both Worlds Concert," this would be the biggest result ever for a concert film. As it stands, people like me have egg on their face, but Sony will still be raking in a tidy profit when it's all said and done as the film grossed a cool $101 million in its first five days worldwide.
"Paranormal Activity" continued to expand but saw it's weekend gross decline for the first time with $16.5 million and second place. Halloween landing on a Saturday is usually box office poison, but the supernatural flick bucked the trend somewhat and now has almost $85 mil in the bank. Believe it or not, if it can keep chugging along, it will become the first straight horror movie to top $100 million since "The Grudge" in 2004 and the first R-rated horror to do it since "Red Dragon" in 2002.
That about does it for notable news at the box office this week. "Saw VI" collapsed as per usual for the series and grossed a limp $5.6 million for fifth place. A total of $22.8 million after 10 days still hasn't matched what the last installment could make in two. So, good job everyone.
"Amelia" had a very solid hold, dropping only 23%, but the damage was already done with the tepid debut. $8.3 million after two weeks is nobody's idea of a solid run and unless these holds continue during weeks with actual competition, it's still a misfire for Fox Searchlight.
Speaking of which, "Gentlemen Broncos" opened virtually unnoticed in two theaters and will end up with a final gross closer to "Eagle vs. Shark" than "Napoleon Dynamite." What do these two bombs have in common? They are homegrown titles that are trying way too hard and not festival pick-ups.
Apparition finally got some good news with the solid limited debut for "Boondock Saints II: All Saints Day." The new distrib can't buy attendance for hits from Cannes ("Bright Star") or Sundance ("Black Dynamite"), but non-stop shots of dude-bros sliding on the ground and shooting two guns is A-okay with audiences.
This week I joined a crowd of Michael Jackson fans at the midnight screening of "This is It" at the Arclight and will be hard pressed to have a more enjoyable theatrical experience all year. The movie is essentially a big tease, but in that environment I had a blast and cheered after every number.
Next week is the official start of the Holiday season at the box office and Disney hopes to kick things off strong with "A Christmas Carol." The trailer is just a bunch of shots of Jim Carrey screaming but the name recognition of the story and the open marketplace should be good enough for $45 million.
Warner Bros. missed the Halloween boat but will still try to scare audiences with "The Box." Richard Kelly may have a following but it doesn't add up to box office numbers, and this thriller has been underpromoted to say the least. I'm thinking $7 million and a tight race with…
"The Fourth Kind." The trailers looked innovative pre-"Paranormal Activity" and now it's lost some gloss. Universal has a spotty record with the genre, too, so I see this being cannibalized by the many other scary options. Something else besides the Zemeckis film has to make some money though, right? What's the verdict out there people?
Finally, George Clooney begins his autumn assault on audiences with "The Men Who Stare at Goats." With a great title, great cast and only expanding art house films like "An Education" and "A Serious Man" as direct competition, it should have plenty of room to make some money. Unfortunately, I just think it will appear too strange for most Americans and will have to make do with $10 million or so.
What do you guys think? Here are the weekend's top domestic grossers, courtesy of Exhibitor Relations: