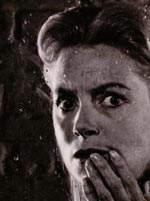 Tomorrow, of course, is Hallowe'en — an institution more treasured in the US than it is on my side of the ocean, where it's principally another excuse to get drunk. (But hey, this year I'll be getting drunk while wearing a silly hat. Progress!)
One aspect of the holiday that travels well, at least, is the celebration of horror cinema: Pinewood Studios, for example, is hosting a drive-in double-feature of "The Omen" and "The Shining" on the world's largest cinema screen.
Meanwhile, horror DVD marathons will take place in living rooms around the world, so Martin Scorsese (whose own upcoming film looks to have its share of jolts) has helpfully provided his own playlist of the 11 scariest horror films of all time for The Daily Beast:
1. "The Haunting" (Robert Wise, 1963)
2. "Isle of the Dead" (Val Lewton, 1945)
3. "The Uninvited" (1944)
4. "The Entity" (Sidney J. Furie, 1981)
5. "Dead of Night" (Alberto Cavalcanti, 1945)
6. "The Changeling" (Peter Medak, 1980)
7. "The Shining" (Stanley Kubrick, 1980)
8. "The Exorcist" (William Friedkin, 1973)
9. "Night of the Demon" (Jacques Tourneur, 1957)
10. "The Innocents" (Jack Clayton, 1961)
11. "Psycho" (Alfred Hitchcock, 1960)
I don't mind admitting that there are titles here I haven't seen, while not everything on this list quite does it for me. This is the beauty of the genre: a horror film's effectiveness is dependent more in intangible visceral criteria than aesthetic ones. I've seen some monumental junk that has nonetheless rattled me far more than more finely crafted entries in the horror canon.
You may remember we offered our own collective list of the 20 greatest horror films last year. (It allows for a catholic definition of "horror," but I think that should be the case.) My personal contribution to the list ran as follows:
1. "Repulsion" (Roman Polanski, 1965)
2. "The Innocents" (Jack Clayton, 1961)
3. "The Last Wave" (Peter Weir, 1977)
4. "Blue Velvet" (David Lynch, 1986)
5. "Rosemary's Baby" (Roman Polanski, 1968)
6. "The Vanishing" (George Sluizer, 1988)
7. "Peeping Tom" (Michael Powell, 1960)
8. "The Shining" (Stanley Kubrick, 1980)
9. "Psycho" (Alfred Hitchcock, 1960)
10. "Wolf Creek" (Greg Mclean, 2005)
That means Scorsese and I overlap on three films — not bad for this most idiosyncratic of genres. What about you?