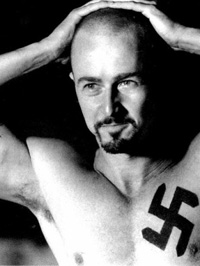 For all my bitching about Roberto Benigni winning Best Actor in 1998 for his incessant mugging in "Life is Beautiful," I was also thrilled the Academy watched enough films and paid enough attention to realize that Edward Norton was deserving for his magnetic turn as a neo-Nazi who sees the light in "American History X." Norton was electrifying as Derek, the charismatic leader of a group of skinheads, handpicked by the older gentleman, played with menace and sleaze by Stacey Keach, who believes in what Hitler taught and seeks to spread the word to the youth of California.
Norton gave the best performance by an actor I saw in 1998, but the Academy got caught up in the groundswell of support of Benigni's movie, a fable set in a death camp. I'm not a fan, either of his overwrought, over the top performance, or the film itself. No rant, you all know what I think there.
That said, there was a bounty of great male performances in 1998, many of which went unnoticed by the Academy. They did their best to get it right, though.  Joining Norton and Benigni for nominations were Nick Nolte in "Affliction," Ian McKellen, superb in "Gods and Monsters," and Tom Hanks as the weary soldier in Steven Spielberg's magnificent "Saving Private Ryan."
Not even nominated, however, were Warren Beatty for his brilliant turn as the truth-talking senator in "Bulworth," Joseph Fiennes in Best Picture winner "Shakespeare in Love," Jim Carrey in "The Truman Show," George Clooney in "Out of Sight," Brendan Gleason in "The General" and John Travolta in "Primary Colors" or "A Civil Action," take your pick.  And perhaps the most deserving of all: Jeff Bridges as The Dude in "The Big Lebowski," the actor's finest work, in my opinion.
Each of the aforemenetioned men gave stronger performances than the eventual Oscar winner, yet failed to nab a nomination.  Jeez!
Anyway, on to the leading ladies.  From the moment she was nominated for Best Actress, Gwyneth Paltrow was going to win for "Shakespeare in Love." Hollywood loved her, and let's face it, in the right role, the girl can act.  Though I think she has been better since in supporting roles in "The Talented Mr. Ripley" and "The Royal Tenenbaums."
Cate Blanchett was far and away the Best Actress of the year for her superb work in "Elizabeth," though I have to say I also loved what Fernanda Montenegro did in "Central Station," Walter Salles's wonderful effort, also nominated for Best Foreign Language Film. I never understood Meryl Streep's nomination for "One True Thing" without Renee Zellweger being nominated alongside her, though the fifth nominee, Emily Watson, richly deserved her nod for "Hilary and Jackie."
Where was Ally Sheedy for "High Art" or Christina Ricci for her excellent work as a vicious little number in "The Opposite of Sex?" I remember Jane Horrocks gave an astounding, though very creepy performance as the girl with a thousand voices in "Little Voice" along with Brenda Blythen (again) as her slovenly mother and thinking both of them would land in the race, only to be left out.
The race for Best Supporting Actress was over for me after seeing Kathy Bates in "Primary Colors." The actress was a powerhouse from the moment she breezed onto the screen, steamrolling everyone in sight. I quite liked Judi Dench in "Shakespeare in Love," though, as the actress made me believe she was royalty in just a few short scenes and minimal screen time. There was little surprise when she won the award, though admittedly I would have rather seen Bates and I never believed she deserved to win for "Misery" over Anjelica Huston in "The Grifters."
Blethyn was nominated for "Little Voice" along with Rachel Griffiths for "Hilary and Jackie," and Lynn Redgrave got in for her over the top work in "Gods and Monsters." But Patricia Clarkson might have been a stronger choice for her work in "High Art" along with Laura Linney in "The Truman Show."  And once again, Joan Allen should have been in the running for her superb work in "Pleasantville."
And shoot me, but I liked Halle Berry in "Bulworth."
The Best Supporting Actor race was jam-packed with strong candidates, and just as many that were left out. Perhaps feeling sad they had given the Oscar to the wrong man the year before, the Academy nominated Robert Duvall for his supporting turn in "A Civil Action," though Duvall was pissed enough not to make an appearance this time. Ed Harris was up for "The Truman Show" along with James Coburn in "Affliction" and Geoffrey Rush in "Shakespeare in Love," and Billy Bob Thornton rounded out the nominees for his work in "A Simple Plan." Of any of the five, I struggle with Rush and Duvall, both good performances but stronger than the men I am about to mention?  Nah.
Bill Murray did some brilliant work in "Rushmore," winning the New York Film Critics Circle Award for Best Supporting Actor, while Dylan Baker gave an immensely brave and haunting performance as a pedophile in Todd Solondz's "Happiness." Though I understand why Baker was not nominated, one cannot deny the brilliance of the work.
Steven Spielberg's "Saving Private Ryan" had two potential supporting actor nominees in Tom Sizemore and Jeremy Davies.  The latter's meltdown on the steps as one of his friends is being killed is among the film's most harrowing moments.  Best Actor nominee (for "Affliction") Nick Nolte gave a throat-tearing performance in "The Thin Red Line" along with other potential nominees, Elias Koteas, Woody Harrelson and Sean Penn, all superb.
Elsewhere, the wonderful Donald Sutherland gave huis finest performance since "Ordinary People" in "Without Limits," portraying the coach of famous runner Steve Prefontaine, bringing real dignity to the part. Michael Caine, always interesting to watch, gave a wonderful performance as a sleazy performance manager in "Little Voice," so creepy you could all but smell the booze and sweat on him.  He won a Golden Globe for his troubles.
At the end of it all, I'd say Ed Harris deserved the award for his God-like performance in "The Truman Show," one of that great actor's very best efforts to date, but Oscar went sentimental in 19998 and gave it to James Coburn, who gave a good performance in "Affliction."
What are your thoughts on the great performances of 1998?  Have your say in the comments section below!