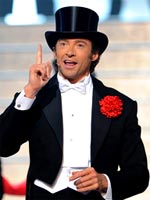 As the annual guessing game of who will host the Academy Awards continues to go in circles, there's at least one name we can remove from consideration: a certain Mr. Hugh Jackman.
Variety confirms that the previous Oscar emcee was invited to repeat, but "quietly" turned down the opportunity sometime in the last few weeks, not wanting to do the task in consecutive years. (He may host again in the future, in other words.)
This largely puts paid to the speculation that the hiring of choreographer Adam Shankman to produce the show meant we were essentially in for a rerun of last year's show, which is fine by me.
The previous Oscarcast format was very much the singular vision of Bill Condon and Laurence Mark, while Jackman's song-and-dance stylings will stay fresher if used on an irregular basis.
It does, however, put us back at square one. Are we going to return to the more familiar comedian-as-host routine, or might the producers still opt for someone with song-and-dance qualifications? (Neil Patrick Harris's name, for example, keep getting thrown into the hat by fans, but would he merely come across as a poor man's Jackman?)
You all know where I stand on this. (Hey, if Shankman and Mechanic want music, Steve Martin can always bring his banjo.) In the meantime, suggest away.