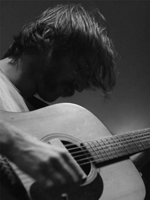 The music branch of the Academy sure hasn't done the hard-working awards team at Paramount any favors lately. You might recall the 2007 fiasco surrounding Johnny Greenwood's score for "There Will Be Blood," which left his immaculate (some would say year's-best) work ineligible due to arbitrary, overly subjective fine print concerning the dilution of the original music by pre-existing material.
Well, lightning strikes twice, as musician Sad Brad Smith has opted out of submitting his soulful, thematically potent track "Help Yourself" from Jason Reitman's "Up in the Air." We featured the song here earlier in the week.
The reason, I'm told, is that, though unpublished, a portion of the song existed previously in Smith's repertoire. As such, the track would not qualify due to the fact that it wasn't rendered, in full, specifically and originally for the film, as the music branch's rules stipulate.
As previously reported, the closing credits title track from Kevin Renick is also ineligible because it is the second cue over the credits and because Renick penned the song before he met Reitman. Even though it was written specifically for the film, it is ineligible because it was not created in collaboration with the filmmaker and would be, again, arbitrarily dismissed under the music branch's dubious rule set.
I'm told both the studio and Reitman are standing behind Smith and his decision. There are also still plans to utilize the song extensively in the film's marketing scheme. And while inelugible for Oscar consideration, it is still eligible for the Golden Globes and year-end critics awards.
I won't launch into another diatribe against this branch again. My feelings are well-documented. But I don't think I'm speaking out of turn when I say something is broken here.
"Help Yourself" will be available for download via iTunes on Tuesday, November 3. The full soundtrack hits shelves December 1.