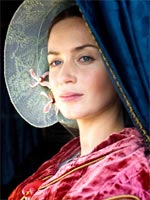 Tom O'Neil has pooled the thoughts of 16 awards-watchers on which 10 films will make the Best Picture cut, and the results make for ominously predictable reading.
All 16 agree that "The Hurt Locker" and "Invictus" are in (I guess it's just me holding out on the latter then), while there's near-consensus on the likes of "Precious," "Up in the Air," "Up" … you get the idea. Yawn. At this rate, the switch to 10 nominees looks to sap any excitement from this stage of the race whatsoever.
More interesting, then, is to venture further down the list to see what the pundits' more out-on-a-limb picks are. One would like to think at least one of the slots has to be filled with something slightly less expected — otherwise what's the point? So I turned my attention to the films receiving a solitary vote from one of O'Neil's posse.
Those hoping for a foreign-language contender in the mix (no, "Inglourious Basterds" does not count) might want to look away, as not a single punter has one on their list, while things look similarly grim for documentaries.
Most of dark horses mentioned therefore lean towards the populist end of the spectrum. Scott Feinberg opts for "Julie & Julia," and I'm a little surprised he's the only one. Meanwhile, Susan Wloszczyna shares my long-held (and potentially wildly off-base) hunch that it'll be Meryl Streep's second comedy of 2009, "It's Complicated," that tickles the Academy.
Other picks range from plausible long-shots (Peter Travers picks "District 9") to films that strike me, at least, as no-hopers. (Respect to Robert Osborne, but "Away We Go?" Really?) Some picks ("2012") seem a mite cynical, others ("Moon," for example) perhaps more wishful thinking.
The wild-card prediction that baffled me more than any other, however, was Pete Hammond's. O'Neil's colleague at The Envelope leaves "An Education" off his list, but finds room for "The Young Victoria" instead. I can't imagine Jean-Marc Vallee's sleepy costume drama cornering the British vote, given its tepid UK reception way back in March, so what does Hammond know that we don't?