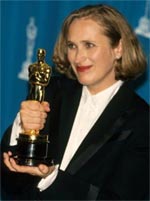 In the four months since the Academy announced its controversial switch from five to 10 Best Picture nominees, you've heard a lot of griping (and occasional enthusing) from assorted critics, industry-watchers and schmoes like me.
What we haven't heard is too much perspective on the issues from the voters themselves. So USA Today's Susan Wloszczyna has done some digging, only to find that several prominent Academy members are as unhappy with the idea of The Ten as many pundits are.
Two-time nominee Willem Dafoe complains that the change "lowers the bar" and "dilutes the exclusivity" of the award, claiming that some years might not have enough deserving contenders to make up a satisfactory list of nominees. Michael Sheen concurs, saying simply, "The more films you have, the less special it becomes."
Meanwhile, Oscar-winning director Jane Campion, whose "Bright Star" actually stands to benefit from a wider field this year, is nonetheless decidedly displeased by the change (and the fact that they wider AMPAS membership wasn't consulted):
I've heard it's because of the major studios. None of their movies are being chosen … It's not a popularity contest. That is box office. We have that. The Oscars should be something else. Whose decision was it? Why didn't we vote on it? Let it be a challenge for these studios rather than just expect to see Batman on the list.
Unsurprisingly, one member in favor of the change is Pixar boss John Lasseter, whose studio would at least boast a couple of Best Picture nominations by now had The Ten always been in effect:
I don't think it diminishes anything … There are an awful lot of more commercial films that have not been nominated that should have been. Now there's a whole generation of moviegoers who don't relate as much to the Oscars, since the movies that they love so much are not represented. This will open the door.
A tart rebuttal to this line of thinking comes from Peter Schneider, who was in charge of Disney animation when "Beauty and the Beast" history became the first (and only) animated Best Picture nominee, without the help of five extra slots:
It won't mean as much. Getting in is not as special as when it was just five. It's like cheating.
Bottom line: Oscar voters have exactly the same arguments that Oscar bloggers do. Who knew? Read the rest here.