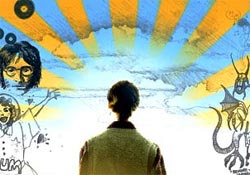 London Film Festival
A bright, slight, mostly enjoyable portrait of the formative years of John Lennon, artist-turned-filmmaker Sam Taylor-Wood's "Nowhere Boy" opens with a nudge-nudge tease, as the singular opening chord of "A Hard Day's Night" reverberates through the theater over a shot of the 18 year-old Lennon running to school.
That single-second strum, however, is all we get of the ubiquitous Beatles songbook, as Taylor-Wood and screenwriter Matt Greenhalgh ("Control") go out of their way to distance their story from Fab Four iconography, even coyly dancing around any mention of the "B" word. "What do you call yourselves now?" Lennon's weary Aunt Mimi (Kristin Scott Thomas) asks her nephew over breakfast, after he announces the band's plans to travel to Hamburg. "Do you care?" is his tart reply.
Even if this is a little too cute, it's cause for commendation that the film largely avoids the contrived "inspiration" cues that usually plague the musical-biopic genre. A fleeting glimpse of the original Strawberry Fields house in Liverpool is about as on-the-nose as things get; we're spared the mandatory montages of the artist scribbling lyrics in a battered notebook, and even the Beatles cuts performed towards the film's end are authentic fledgling efforts. (Over-familiar 1950s rock n' roll standards comprise the bulk of the soundtrack, while Goldfrapp's incidental score hardly registers.)
Knowing that the formation of the most important band in pop history is too large a subject for their modestly-scaled film, Taylor-Wood and Greenhalgh wisely keep the focus on the domestic tensions of Lennon's childhood, principally the informal custody battle waged between his strait-laced aunt and his manic-depressive mother Julia (an affecting Anne-Marie-Duff).
This is rich dramatic material, but Greenhalgh renders it in decidedly prosaic terms as a repetitive series of face-offs, each one resolved before the profound interior pain of the principals threatens to disturb the genteel rhythms of the piece. More daringly, Lennon's relationship with his mother is given quasi-incestuous overtones, but the characters' behavior only fleetingly bears out such implications.
Taylor-Wood, meanwhile, seems to have put her bolder artist's instincts on a tight leash: the confident, sensual synthesis of imagery and music that so distinguished her gorgeous short "Love You More" is little in evidence here, as she instead opts for the cheerily nostalgic aesthetic of British television, despite the muted presence of ace DP Seamus McGarvey.
Much has been made of the scant resemblance of strapping 19 year-old Aaron Johnson (looking rather older than his age, to boot) to the paler, finer-boned Lennon, though for this viewer, the physical discrepancy was less a distraction than a deliberate means of distancing the subject from the icon. With an appropriately affected Scouse accent that fades in and out (as, according to some, did that of the class-insecure Lennon), Johnson effectively captures the unlikely rock star's self-awareness and bone-dry irony, though he falters in more confrontational scenes.
It is left to Kristin Scott Thomas, then, to provide the film's grace notes, as she finds in Mimi a maternal yearning and fierce mistrust of emotion that exceeds the script's stoic demands of the character. It's rare that we get to see this most seemingly patrician of actresses delving into Britain's aspirational classes, and Scott Thomas's reading of Mimi's social airs is exquisitely poised between conceit and vulnerability, while still exercising her impeccable hauteur: "Your little friend is here," she announces splendidly, when Paul McCartney shows up on her doorstep.
It's an award-caliber portrayal in a film otherwise short on equivalent bite and subtlety. As Lennon's solo hit "Mother" plays over the closing credits, it's hard not to question the choice of song: not just because of the obviousness of the musical cue, but because the complex, contemplative figure who wrote those words is so little in evidence here.