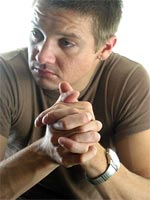 Variety's annual list of 10 Actors to Watch may occasionally raise questions of what constitutes a career "breakthrough" — particularly in the case of established actors who those in the know have been watching all along.
Still, it always makes for interesting reading, not least because, in some cases, it highlights names that Variety's editors expect to show up in the coming awards season. Last year's list featured four actors (Melissa Leo, Viola Davis, Taraji P. Henson and Michael Shannon) who ultimately wound up in the Oscar circle. This year's list looks unlikely to match that number (nor does it match the feminine bent of last year's crop), but there's some undeniably worthy talent in there:
Laz Alonso
Maggie Grace
Tom Hardy
Nicholas Hoult
Rachelle Lefevre
Jeremy Renner
Alia Shawkat
Emma Stone
Michael Stuhlbarg
Christoph Waltz
I'm afraid to admit there are a couple of names on there that ring no bells whatsoever to me, but I expect I'll get to know them in time. I'm sure few will find fault with the inclusion of Waltz (a guaranteed Oscar nominee for "Inglourious Basterds"), Renner (a strong possibility for "The Hurt Locker") and Broadway mainstay Stuhlbarg (a most deserving dark horse for "A Serious Man"), but there's more to commend than just those names.
As I know Kris will agree, I must cheer the mention of Tom Hardy, whose electric presence was already apparent to British theater and television audiences, before "Bronson" pushed him over the top. And the inclusion of Hoult, a younger Brit tackling his first adult role in "A Single Man," echoes his placing in my recent Top 10 Actors Under 30 list. I'd love to say more about the ladies, but I can't say any of them have made an equivalent impression on me.
Anyway, check out the thesps' profiles on Variety here. I liked this no-nonsense soundbite from Renner, on his "Hurt Locker" turn:
"The physical part left the biggest impression … I still get a little punchy when I bring it up. Then it became emotional … By the end, it was spiritual. I learned a lot and grew as a man. I don't really remember acting. Everything was chaotic and difficult. We didn't see cameras most of the time. We just had our characters down and knew what we wanted to do."