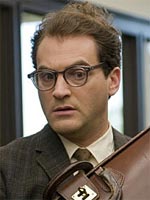 Those of you who enjoy it when Kris and I butt heads over one film or another — as on the two occasions this past week alone that I've been unceremoniously fired — will be disappointed to hear that an entente cordiale has arrived in the shape of "A Serious Man." (Ironic, really — since when did the Coen Brothers make movies designed to bring people together?)
Anyway, while I don't know yet whether my passion for the film will run quite as deep as Kris's by the year's end, I have no qualms whatsoever about echoing his sentiments that "A Serious Man" is an extraordinary feat.
Novelistic in its reach and rhythms, but intrinsically cinematic in the way Roger Deakins's calmly predatory camera investigates physical and personal space, it seems a direct (if deliciously perverse) rebuttal to claims made by the duo's detractors that their films are overly hermetic, unwilling to engage with the world around them.
"A Serious Man," with its disconcerting balance of loose, gonzo goofery and tightly wound despair, proves that they can have it both ways: in a story of the multiple ways in which neighborly structures of faith and community can fail the individual (or so it seemed to me, at least — I've heard a number of interpretations floating around today), their typically skewed, heightened perspective seems less arch for having found a protagonist as fearful of everyday life as they appear to be.
(Does Michael Stuhlbarg offer the most finely etched performance yet in a Coen film? I'm tempted to say yes. Why are we even having to talk about filling certain Best Actor slots when this man's work is out there for all to see?)
It's the rare film that you look forward to seeing again as even you're watching it for the first time, and consequently I don't want to write much more about it now — not for lack of understanding, but the curiosity to see how the film shifts and alters when challenged with one's conclusions from the outset of a second viewing.
I'd hesitate to say this is their finest film — I'm still very attached to "No Country for Old Men," after all, with which I think "A Serious Man" has more in common than meets the eye. (Fuck, I just got fired again.) And the "Barton Fink" comparison goes without saying. But they've never made something quite so steeped in feeling.
On a more trivial note, I couldn't help admiring (as merely one tiny aspect of the film's immaculate production and costume design throughout) the retroactively stylish eyeglass frames that Stuhlbarg's Larry Gopnik wears throughout — only for a friend to later mail me, coincidentally enough, this little piece on men's style blog Kempt, which hails Gopnik's Moscot eyewear as "the official glasses of metaphysical crisis." I'm totally buying a pair.