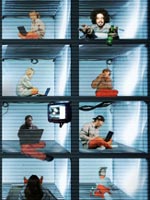 The few of you who do follow my Twitter account will have gathered by now that, compared to some, I'm not the most active correspondent in that medium — limiting my thoughts to 140 characters is a trial more often that not. However, should I ever find myself in the hunt for an Oscar (hey, I have dreams too!), I'll be sure to step up my tweet count.
You've all heard by now about "Moon" director Duncan Jones's admirably enthusiastic Twitter campaign for Sam Rockwell's Best Actor chances, which so far has worked a treat.
No, not because Rockwell isn't still the darkest of horses for Oscar consideration, but because the quirky nature of the campaign has proved something of a talking point in an otherwise quiet week — generating a fresh wave of viewer interest in a small, long-gone summer release. As nice as this press is for Rockwell, "Moon" is the real winner here.
With this in mind, Variety has an interesting piece about the potential future role of such online platforms in awards season, suggesting that Jones's tactics may represent the way forward — if not for the purpose of direct campaigning, then at least for creating wider awareness of a film or individual during awards season:
"None of it should be taken lightly," insists former New Line online guru Gordon Paddison, who now freelances as a film marketing and distribution consultant. All Internet efforts should be elements of a strategic publicity and marketing plan, says Paddison. "A campaign should not only be about the Vanity Fair piece but also about the 140-character piece," he adds.

Whether or not one believes Acad voters are immune to online chatter, according to Paddison, a contender or marketer's goal should be to share information without coercing or pandering and "be elegant and responsible while at the same time being strategic."
Among the filmmakers making full use of these resources is "We Live in Public" director Ondi Timoner. That's appropriate enough, given that her Sundance-winning documentary is centred on the construction of identity and celebrity via the Internet — so there's a neat symmetry to Timoner's new media-savvy publicity tactics:
Timoner contends her film wouldn't be in theaters without social media. "We don't have money for ads and no money for real P&A, but what we do have are tech-savvy people who are attracted to the film and are helping put it out in an innovative way," she says.

Among the innovations: streaming the press screenings live in a password-protected environment; commissioning a widget for the film that updates daily with 15-second clips. "I don't know if it will help with awards, but I hope people will notice us without the (publicity) budget of other films," says Timoner.
Not that Timoner neglects face-to-face marketing either — on Sunday night, I was impressed to find her personally flogging promotional T-shirts in a Leicester Square multiplex lobby, prior to her film's London fest screening. She's got her bases covered.
Read the rest of the Variety piece here.