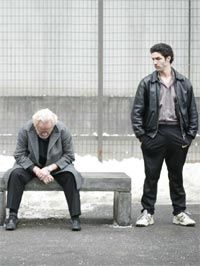 You might not be aware of it, but the competition is already formally under way in Oscar's most perennially problematic category, Best Foreign Language Film.
For almost two weeks now, official Academy screenings of the longlisted contenders in the race have been in progress, and will continue through January, until all 65 titles have been subjected to the foreign-language committee's scrutiny.
Pete Hammond has details of the screening schedule and voting rules, as well as some gossip on audience reaction to the screenings thus far: Mexico's "Backyard" and Switzerland's "Home," starring Jimmy Smits and Isabelle Huppert respectively, have apparently gone down well; Croatia's "Donkey," thanks to incomprehensible subtitles, not so much. Add a pinch of salt to taste.
Coincidentally enough, courtesy of the London Film Festival, I've been simultaneously working my own way down the contenders list, though my personal tally has stalled at eight titles. (It could have been 11, if scheduling and admin obstacles hadn't kept me away from the Australian, Colombian and Serbian entries. I am but one man.) Only 57 to go, then.
I will offer a more detailed assessment of the films in another post, but by and large it's been a pleasure making their acquaintance. Of course, my own selection has been filtered through that of the fest's generally thoughtful programmers, safeguarding against any real horrors – but I don't mind saying that an unembarrassing list of nominees could theoretically be assembled from just my scant sampling of the longlist.
"Theoretically," of course, is the operative word. For while the film lover in me thrilled at this a cross-section of challenging global cinema, much of it already garlanded with festival gold, it was also hard to suppress the mordant gallows mentality of my inner Oscar-watcher.
For even as my cinephile's appetite was sated by the wicked whodunnit structure and surrealist flourishes of Bong Joon-ho's Korean entry "Mother," or the slow-burn character games of Iran's "About Elly," or even the radiant imagery of Peru's ponderous but intriguing Berlin champ "The Milk of Sorrow," after nearly every screening a cynical voice smirked in the back of my mind: "Well, that's not getting nominated."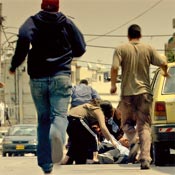 Of the less name-driven selections, only Israel's "Ajami" – an earnest but affecting ensemble crime drama, less audacious but more rewarding than Samuel Maoz's Venice champ "Lebanon" – gave me some pause when considering its Oscar chances. And even that, admittedly, stems perhaps more from the baity media angle it offers, being a collaboration between Palestinian and Israeli directors, than the content or quality of the film itself.
Even the category's two biggest heavy-hitters have given me considerable cause for concern. Michael Haneke's "The White Ribbon" and Jacques Audiard's "A Prophet" have been positioned by most awards-watchers as the joint frontrunners for the Oscar ever since they topped the Cannes winners list back in May, though that owes more to a slightly lazy tendency among many pundits to fall back on Cannes as a world-cinema authority than a close reading of the films themselves.
(Those assuming that Haneke's Cannes triumph gives him a leg up with the Academy may want to check the records: no Palme d'Or victor has won this category since "Pelle the Conqueror" over 20 years ago. Only two have managed nominations since.)
I instinctively never put "The White Ribbon" in my own predicted five, finding it hard to imagine this most conservative of Academy branches grooving to Haneke's notoriously clinical creative sensibility. After finally seeing the film, I stand by that guess: it may be the director's most humanistic effort to date, but it's nonetheless a cool, despairing work with unflinching scenes of bodily harm. Laudable it certainly is; "Departures" it certainly ain't.
But it was with a heavier heart (and, I admit, a hopeful touch of reverse psychology), I scratched France's stunning "A Prophet" from my predictions this week. As I expected, it turned out to be a far warmer film than Haneke's, and its rich narrative more closely aligned with Hollywood storytelling traditions, but I fear its copious blood-letting and youthful male perspective might have as much trouble finding favor with more genteel voters in the category as "Gomorrah" did last year.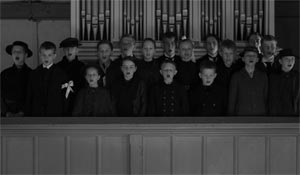 (With that said, one or both of the films will surely find its way onto the preliminary nine-title shortlist in May, thanks to the newish security measure whereby a supposedly more discerning executive committee gets to pick a third of the contenders. If it falls to them, I like the chances of Haneke's more overtly rigorous and 'important' film more.)
To be fair, however, it's always risky to second-guess these voters based on a generalized perception of their values: somehow this usually squeamish and strait-laced bunch took a shine to Alejandro Gonzalez Inarittu's brutal "Amores Perros" and Aki Kaurismaki's frankly batshit "The Man Without a Past" in years past.
In short, they like what they like – as opposed to what they're told, or even expected, to – and as infuriating (and occasionally cretinous) as their taste can so often be, it's difficult to deny that the foreign-language committee is, in its own peculiar way, the most honest branch in the Academy.
Sneer at milquetoast choices like "Departures," "The Counterfeiters" or "Nowhere in Africa" all you like (I certainly do), but all these films won for the simple reason that voters personally responded to them most. Prestige and precursors count for little with these guys; story and emotional accessibility are everything. Which is why the safest way by far to call this ever-perplexing race is to actually watch the films. Anyone know where I can find 57 screeners?