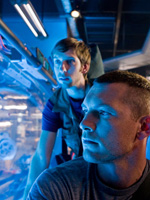 All eyes on on the big four, films that have yet to screen but expect to play a heavy hand in the Oscar race: "Invictus" (which debuted a poster and a trailer recently), "The Lovely Bones" (which has screened internally at Paramount and is almost finished), "Nine" (which has been beginning to get a look from publicists involved, who have nothing but ecstatic things to say, of course) and "Avatar" (which no one has seen).
It is interesting to note the latter's intriguing grip on the anticipation.  I just had a conversation yesterday with a studio head who expects it to go pretty far in the race.  The overall feeling seems to be, unless it's a stone-cold turkey, it will be a formidable contender, genre be damned.  "I wouldn't bet against that guy," the studio head said of director James Cameron (who was recently profiled at great length in the pages of The New Yorker).
It is also interesting to note that, as a new trailer for the film that highlights some of the more dramatic moments of the film plays in theaters, this LA Times piece (sneaked on writer Geoff Boucher's Hero Complex blog) has quotes from both Cameron and star Sam Worthington announcing a desire for story over substance.
Here's Cameron:
I'll go to a 'Transformers' film for the fun of seeing the spectacle," Cameron said, "but, personally, my soul craves a little more story, a little more meat on the bone and characters and that sort of thing.
And Worthington:
If you're going to do blockbusters, you have to find the human in them or else you're just making a video game…I've always said if I'm going to make these things, I'm going to do the thing I can do in a $4-million Australian film — a dramatic piece — and bring that into the action film. If you do that, the audience feels it and then they've got a way in. They see themselves up there on the screen.
The only way into the race, I feel, is if the conversation continues to be framed like this.  "The Lord of the Rings: The Return of the King" is always pointed to as a sign that the Academy is willing to reward genre when necessary, but it's clear that 2003 sweep was owed to a major event in the history of cinema.
Will "Avatar" be a similar event?  Time will tell, though it is certainly in danger of buckling under the pressures of hype.  Maybe a strategy of highlighting the humanity behind the project will kill two birds with one stone by playing down the spectacle (i.e., most easily hyped) elements and playing up the elements that, when you look at memorable cinema, tend to stand out.