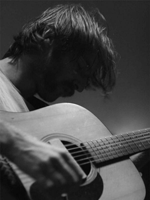 It looks like others are finally coming around to what we reported here over a month ago: Sad Brad Smith's "Help Yourself" from the film "Up in the Air" is a formidable contender in this year's Best Original Song race.  EW's Adam Markovitz does note something we haven't conveyed yet, however — that director Jason Reitman caught Smith's act at a Chicago coffee shop on a recommendation and asked him to write something up for the film.  "Help Yourself" is the result, and it's a fantastic track.
No, really, I don't usually dig on this sort of melody.  It seems so dangerously close to being too precious for it's own good, but pulls back just enough to be a pretty profound piece unto itself.  The tune plays in a marriage sequence that is, really, the emotional heart of the film.  I would love to see Smith nominated and performing on that stage, but you just never can tell with the music branch.
Anyway, we provided Mary J. Blige's "I Can See in Color" from "Precious" earlier in the week, so it seemed only right to pass Sad Brad Smith's track along also.  As always, we'll continue to keep an eye on this race as it unfolds.
[display_podcast]