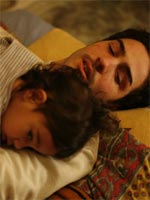 I always knew Anjelica Huston and I were of a like mind. As I reflect on the 60-odd films I've seen the London Film Festival, which draws to a close tomorrow, Jacques Audiard's French Oscar contender "A Prophet" stands comfortably taller than anything else I've seen … and given the standard of this year's LFF lineup, that's no back-handed compliment.
Ms. Huston clearly agrees: at a ceremony tonight, together with the other five members of her jury (a rum bunch including Charlotte Rampling, Matthieu Kassovitz and Jarvis Cocker), she handed "A Prophet" the festival's inaugural Best Film award (alternatively named the Star of London). It triumphed over eight other shortlisted titles, including its Cannes conqueror "The White Ribbon." Huston said of Audiard's film:
A masterpiece: "Un Prophete" has the ambition, purity of vision and clarity of purpose to make it an instant classic.  With seamless and imaginative story-telling, superb performances and universal themes, Jacques Audiard has made a perfect film."
"The Road," interestingly enough, was given a runner-up "special mention" by the jury, despite its continued mixed reception. John Hillcoat's film was singled out for its "breathtaking vision, extraordinary performances and profound political statement."
The Best Film award is one of two new honors added to this years festival. The second, Best British Newcomer, was awarded to screenwriter Jack Thorne for "The Scouting Book for Boys," a coming-of-age drama that was one of the most well-regarded selections in the festival's wildly uneven New British Cinema sidebar. (I'm sorry to say I missed it. Same goes for writer-director J. Blakeson's thriller "The Disappearance of Alice Creed," which received a special mention.)
Meanwhile, the festival's more longstanding awards prevailed. Previously the LFF's highest-profile gong, the Southerland Trophy, went to another Oscar contender I was just discussing, Yaron Shani and Scandar Copti's Israeli-Palestinian crime drama "Ajami."
The award's definition has changed since its inception in 1958, though it currently recognises the festival's strongest debut feature. The roll-call of previous winners is impressive, ranging from "Tokyo Story" to "The Conformist" to "You Can Count on Me" to "Persepolis." Among the shortlisted films that "Ajami" beat to the honor are "Samson and Delilah" (which took the equivalent prize at Cannes) and "Lebanon," the film it also edged out as Israel's Oscar submission.
Israeli cinema, in fact, had a very good night in London, as Yoav Shamir's "Defamation" took the festival's Grierson Award for documentaries. The film, a study of modern-day anti-Semitism that I'm also afraid to say I didn't catch, won ahead of such buzzy festival titles as "Mugabe and the White African" and "La Danse."
But the talk here is all about Jacques Audiard's masterpiece: a relatively uncontroversial choice as the festival's first official best-in-show, but one that quite aptly serves the festival's twin goals of bringing global arthouse cinema to a public audience, as well as raising their profile by spotlighting already buzzy titles. It may be a slightly decorative award for the moment, but at least they got it right.